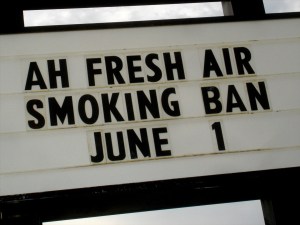 When last we visited the Vaux condominium building, at 372 Central Park West, residents were readying for a meeting at which the Coalition for a Smoke Free City and the Department of Public Health would present on the costs and benefits of smoking inside residential buildings. (Shockingly, neither had much to say in support.) The presentation had been timed to precede a vote on a building-wide smoking ban, the passage of which would require "yea" votes from a super-majority, 66.67 percent, of the Vaux's residents.
But although a number of owners had asked condo board president Linda LeShanna to allow Audrey Silk, of NYC C.L.A.S.H.—Citizens Lobbying Against Smoker Harassment—to speak on their behalf (that is, against the ban), Ms. LeShanna decided that "No other invitations will be extended by the Board to any other group." This of course irked Ms. Silk, who felt eager to advocate, in the extreme. "They never debate," she told us. "If you're so sure of yourself, debate. That's what makes sense."
The result of the aforementioned vote was to have been announced at another residents' meeting Wednesday night. It was not. The vote, conducted by ballot, had in fact already been in progress for weeks, but the board announced—somewhat confusingly—that rather than reveal the results, they were "postponing" the vote until June. This, too, caused Ms. Silk considerable consternation.
"Who postpones something when you've been pushing so hard for the win?" she said. "So when they don't win they get to campaign some more?" 
Since March, Ms. Silk's (official) Vaux constituency has grown from two to seven. Among them is Candice Elliott, who attended Wednesday's meeting. It began punctually soon after seven, she told us, and residents voted without incident to fill three open slots on the condo board. When it came time to disclose the results of the smoking ban vote, however, the proceedings strayed from schedule. "I think that not enough people voted period," Ms. Elliott said. "They saw that they lost so they tried this. That's what I think."
There is some logic to that interpretation. The week of April 2nd, she said, her cohort began posting flyers urging residents to vote "nay," pending dissemination of additional—and more balanced—perspectives. The condo board, she continued, meanwhile distributed flyers, right up until the 11th hour, urging owners to vote and vote in favor of the ban. Emphasizing the exigency of the matter, one leaflet read in part "To date, fewer than half of all Unit Owners have returned completed ballots," which is to say fewer than half the number required for a viable result.
Ms. Silk said that she and her constituents planned to engage an attorney to ensure preservation of existing ballots, so that they might be used as evidence in litigation. (Ms. LeShanna, the condo board president, did not immediately respond to an interview request, and it is unclear whether the issue will be opened afresh in June or if new votes will simply be added to the extant pool; both Ms. Silk and Ms. Elliott told us the former.)
But according to Jeffrey Reich, a partner concentrating on real estate at the firm of Wolf Haldenstein Adler Freeman & Herz, neither tactic would be unusual. From the perspective of those against the ban, he agreed, the board's actions might easily suggest an unfair use of power—that they (the board) are manipulating the process to yield a particular outcome.
That an insufficient number of owners voted, though, does not necessarily indicate that the majority opposes the ban. People, as we know, go out of town. People are lazy, forgetful, apathetic. People lose things. Ballots, for instance.
"I don't see anything untoward in it," Mr. Reich said. "As long as the board is just trying to make sure as many people's votes are registered as possible."
He recalled a smoking ban proposal in another building, whose board he represented. That condo, too, required a super majority to pass a ban. In an initial round of voting, only 67 or 68 percent of owners cast ballots. Of those, however, some 95 percent voted for prohibition. The board left the matter open and when the requisite ballots arrived, they largely reflected the earlier numbers. Smoking is now banned in that building.
Mr. Reich's partner, Steven Sladkus, agreed. "I don't know how underhanded [the postponement] is," he said. "You can't keep a vote open ad infinitum, but for a reasonable period, I don't see anything wrong with it."
"If people don't answer," Ms. Silk told us, "that counts as a 'No.'" But in this instance, as is so often the case, silence seems to count for something closer to a 'Maybe.'"