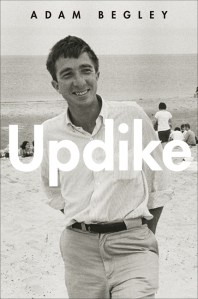 John Updike died of stage four lung cancer early on a Tuesday morning in 2009. At 1 p.m., the critic Adam Begley had a call from his boss at the New York Observer, Peter Kaplan: He had three hours to write an obituary. Mr. Begley appreciated Updike's early stories, which were published in 2003, but he was hardly a devoted fan. He'd interviewed him twice. He'd reviewed 2004's Villages negatively, and was decidedly mixed about Updike's post-9/11 novel, Terrorist. He managed to crash the piece from his home in England: "His best subject was John Updike," Mr. Begley wrote. "The early novels…[t]hose alone would count as an honorable life's work for many a writer." Later that week, Tim Duggan at HarperCollins asked Mr. Begley if he wanted to be Updike's biographer.
Things went slower from there. The first year was spent mostly reading. Mr. Begley had access to Updike's archive of "first drafts and false starts and galley proofs," which was purchased by Harvard nine months after Updike's death, but the author's personal correspondence was trickier. In a recent phone conversation, Mr. Begley told me that Updike was most himself in his letters to his editor at The New Yorker, William Maxwell. But much of Updike's personal correspondence was blocked off, as the estate officially did not cooperate with Mr. Begley. (Updike's children participated as individuals, though, as did his first wife, Mary, whom he divorced in 1974; Martha Updike, the author's second wife, controls the copyright on all unpublished material, along with one of the four Updike children, all from his first marriage, on a rotating basis.)
Updike the man—clumsy, at times unremarkable—emerges predominantly through a discussion of his fiction, for which he dutifully mined his life. He forgot to kiss the bride at his first wedding. He rarely drank and avoided drugs. He was plagued by his deep love for an overbearing mother. He was a poor family man. Even the arc of his career was marked by a strange blandness. "Monotonously triumphant," is how Mr. Begley explains it. He wrote at least three pages a day for decades, leaving behind a vast record of the anxieties and blemishes of middle class suburbia from Eisenhower to Obama. Unlike many of his contemporaries–a generation of writers known for unabashed public displays of self-love–Updike was private, not pathologically so like his early influence J.D. Salinger, but the way Gustave Flaubert liked it ("One must live like a bourgeois and think like a demigod"). His successes and controversies lived in his fiction.
Much of the controversy lies in the question as to whether Updike was a major or minor writer, or as Harold Bloom called him "a minor novelist with a major style." An Updike backlash gained steam in the last decade of his life, and has not tapered off. Part of this is because his output requires a good deal of trudging through muck and filth to find gold. He could bury himself under his prose. In The Centaur, which I think is Updike's best book and a classic, there are still sentences contrived enough to stop a reader in his tracks, for instance, "In truth, everything hangs like dust in a forsaken attic." For better or worse, he put in every thought.
But part of the persistence of the negative reprisal is also because Updike's best critics, simply at the level of writing, have often been his detractors. Jonathan Franzen, in a footnote in The Kraus Project, lambastes "Updike's famous comparison of a writer's work to excretion: you take in life, digest it, and shit it out in paragraphs…My moral complaint was that Updike had tremendous, Nabokov-level talent and was wasting it, because he was too charmed by his daily dumps and too afraid of irregularity to take the kind of big literary risks that might have blocked him for a year or two."
David Foster Wallace, in a review of Toward the End of Time from 1997 commissioned by Mr. Begley, called Updike—or Updike's protagonist, it isn't clear which—"an asshole." (Mr. Begley's full disclosure on the matter of Wallace v. Updike is handled with subtlety: "As for Wallace's review, [Updike] didn't read it until years later." In fact, Mr. Begley told me, what he read was an excerpted version. The author Louis Begley, Mr. Begley's father and Updike's classmate at Harvard, read the full version, and was particularly displeased with Wallace's accusation of "senescence." For several months after, he slipped the word into casual conversation with his son.)
James Wood's review of the story collection Licks of Love, a book about the raging erections of middle aged solipsists, begins: "It seems to be easier for John Updike to stifle a yawn than to refrain from writing a book." In his biography, the point of which is to solidify Updike's reputation, Mr. Begley himself questions whether the rate of Updike's output wasn't "a liability." He clearly disagrees with Mr. Wood, but the biographer does not claim his subject is a genius, quoting Lionel Trilling on George Orwell: "He was not a genius, and this is one of the remarkable things about him." Updike, like George Caldwell in The Centaur, a character modeled after his own father, did the best he could with what was given to him—a massive, flawed talent.
Wallace took issue with the ontological nature of Updike's writing that has been so divisive, that he "has for years been constructing protagonists who are basically all the same guy…and who are all clearly stand-ins for the author himself." In other words, who does he think "he" is? This question frames the style of Mr. Begley's book, which is very much a comprehensive critical study. This is a man whose only hobbies were golf and cheating on his wife. He created one character, Henry Bech, solely as a means to deposit his thoughts on being a writer. (His other characters had distant careers—"second rate abstract expressionist," Toyota salesman, ad executive, all of which come across as afterthoughts.) One recurring fictional couple, The Maples, are a virtual diary of Updike's infidelities in his first marriage. Updike often worried, as Mr. Begley documents, about publishing fiction in The New Yorker for fear of libel, and would sit on a story until the situation cooled down.
Yes it would be facile to confuse the novelistic "I" with the author himself, but it's a conflation that Updike explored. Many of his protagonists played golf and cheated on their wives. (Writing, Updike famously claimed in his memoir Self-Consciousness, was his "sole remaining vice.") As Peter Caldwell, Updike's narrator in The Centaur, put it, "…between the voiceless 'I' inside my head and the trembling plane of darkness there, there was a gap of indeterminate distance but certainly not more than an inch." The author's son, a writer himself, had it differently in a 1982 documentary dug up by Mr. Begley, saying his father "decided at an early age that his writing had to take precedence over his relations with people."
That father was far more successful than son doesn't say a lot about writing as a profession. Perhaps to live life on the page is to live badly. Mr. Begley displays the author's famous charm, but Updike does not emerge as an entirely likable figure. Whether in real life Updike was an asshole, a philanderer, a misogynist, a bore, a sleazy careerist is for the most part less interesting than the characters he created that shared these traits. He wrote some bad books–Brazil, Gertrude and Claudius, The Widows of Eastwick and, arguably, Couples, his break out success about bourgeois infidelity that landed him on the cover of Time—but so have Norman Mailer, Joan Didion, Philip Roth, Joyce Carol Oates, Saul Bellow, Virginia Woolf, Ernest Hemingway, Toni Morrison, Robert Stone, Lorrie Moore, Thomas Pynchon, Louise Erdrich and Don DeLillo. This isn't a perfect art, and that's what makes it interesting. The best thing Updike ever did in his life, as Mr. Begley gracefully proves, is write everything down.