If you know the difference between cotton sateen and cotton percale — but make, say, normal-person amounts of money — there's an upcoming service that wants to be the Warby Parker or Bonobos of bedsheets.
Brooklinen, if they get full funding from their Kickstarter, will manufacture and sell luxury, 100 percent Egyptian cotton bedsheets starting at $100 a set. The company was founded by Rich Fulop and David Fortune, two current MBA students at NYU Stern School of Business.
"A lot of students are working on very fluffy projects like apps," Mr. Fulop told Betabeat. "But we were learning pricing strategies, branding — we said, 'Let's do this for real.'"
The idea for Brooklinen came to cofounder Rich Fulop when he was in a Las Vegas hotel. He and his wife noticed how awesome the bedsheets were, but found out they cost $800.
"We thought that was crazy," said Mr. Fulop, who started digging into exactly how bedsheets are made and sold. He found that between the wholesalers, brands, retailers and licensing, the middlemen were reaping major rewards and passing the cost along to the customer.
"Most of these factories are out in Pakistan, China, and then they'll slap a label on it," Mr. Fulop said. "When you have the scale Ralph Lauren has, you can manufacture thousands of sets for cheap at a huge mark-up."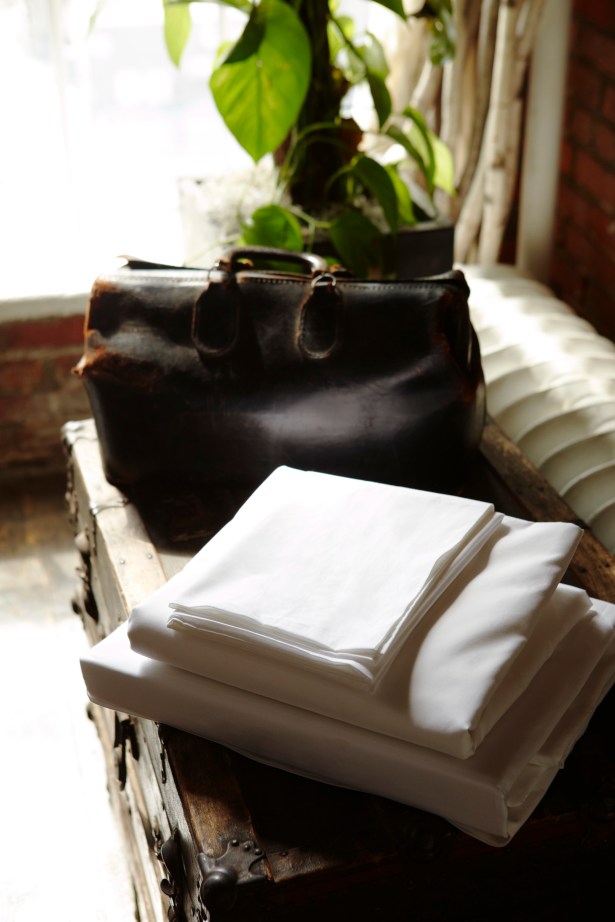 Brooklinen cuts out the middleman, going straight from manufacturer to your doorstep. But despite the company's name, Brooklinen bedsheets aren't all manufactured in Brooklyn, or even the United States.
"We saw what other companies were doing, jumping through hoops to make a product here, but not adding much value," Mr. Fulop said. Their first partnership is with a factory in Israel. The two cofounders travelled across Asia and the Middle East looking at other potential factories.
It's been only a week since the Kickstarter campaign launched, but they've already raised over $40,000 of their $50,000 goal. Beyond just funding their business, the founders are hoping Kickstarter attracts a certain demographic that Brooklinen wants to develop in-roads with — the "yuppie, millenial customer who's shopping online for everything," as Mr. Fulop puts it.
While we've seen plenty of Kickstarters used as either a funding round or a pre-sale platform for companies with plenty of cash on hand,  at least the crowdfunding for Brooklinen will build a company that needed the money in the first place, and give two business school students something to work on after they graduate.
"We're both finishing in May," cofounder David Fortune told Betabeat. "The Kickstarter ends on the 21st, and our MBA program ends on the 22nd."
If any New Jerseyans did a double-take reading the name "Fulop," Rich Fulop of Brooklinen is, in fact, the younger brother of the young Jersey City Mayor Steve Fulop. Mayor Fulop is a fan of the project, but hasn't publicly endorsed or tweeted about the business — Rich is adamant about being successful on his own terms.
"Besides, [Steve] ran on an anti-corruption platform," Mr. Fulop said. "To nepotistically endorse a business would kind of undermine all that."