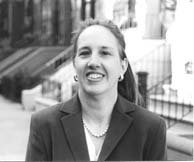 Manhattan Borough President Gale Brewer hasn't left her City Council days far behind.
A review of council records finds she–much like Public Advocate Tish James–has been significantly more active legislatively than her predecessor, co-sponsoring nearly two dozen bills in her first three-and-a-half months in office.
The 22 bills, plus one resolution, stand in a stark contrast to the former borough president, now-Comptroller Scott Stringer, who co-sponsored four pieces of legislation at the city level during his eight years in that office, records show. Indeed, from 2010-2013, the only borough president who used the process to spearhead legislation was the Bronx's Ruben Diaz Jr., who co-sponsored three bills over that time.
Mr. Brewer, who spent 12 years as a councilwoman representing the Upper West Side before switching to the borough role, has also taken a different approach than the majority of her new colleagues. Queens Borough President Melinda Katz has yet to co-sponsored a bill, while Brooklyn's Eric Adams and Mr. Diaz Jr. have each co-sponsored one (Mr. Adams a resolution concerning tolls on the Verrazano-Narrow Bridge; Mr. Diaz Jr. a bill that would prohibit the sale of gasoline to people operating unregistered vehicles, including motorized scooters, as well as anyone without a valid driver's license.)
Only Jimmy Oddo, of Staten Island, another former councilman, has been active when it comes to introducing legislation, co-sponsoring 14 bills in his new role so far, including several related to cleanup from Hurricane Sandy, records show.
In an interview, Ms. Brewer said the focus was only natural, considering the dozen years she spent as one of the council's most prolific lawmakers. "I introduced more bills than anyone else on the council," she proudly stated.
Ms. Brewer said part of the push is unfinished business.
"On the legislative front, there are bills that we just didn't get a chance to work on," explained Ms. Brewer, pointing to bills she worked on in her former role, such as expanded paid sick leave for workers.
In addition to keeping an eye out to make sure that bills passed during the previous administration get implemented properly, Ms. Brewer said that, after 12 years deep in the weeds of city policy, she's developed a keen understanding of the kinds of issues the legislative body can address.
"I think sometimes it's just what you're comfortable with," she said, noting that Mr. Stringer, a former assemblyman, arrived to the role from Albany, and tended to make his opinions known through submitted testimony.
A spokesman for Mr. Stringer, however, noted that the comptroller did introduce four bills during his first term as borough president, including one that required owners of vacant lots to register their properties with the city's Department of Buildings and one that called on the School Construction Authority to reform its planning process to better address overcrowding.
He also pointed to state legislation, which is not formally submitted on behalf city officials, but that he said Mr. Stringer worked on, including the Empire Engineers Initiative Act, which aimed to provide partial student loan repayments for students working as engineers in the state.
Ms. Brewer, who has long been a champion of transparency and keeps up one of the most hectic appearance schedules in town, also said she appreciates the process.
"I like the public process of it. I like the hearings, I like the fact the public knows what you're doing, I like the public input," she said. "I think it's just the fact that City Hall really is the people's house, and one way to do that is the legislative body. So we're trying to emulate that."
Among the bills on her roster are a measure that would allow 16- and 17-year-olds to serve on community boards, one that would require building addresses to be clearly marked on their exteriors ("The ambulance people would love this bill!"), one that would allow for instant runoff voting in citywide primaries, and one that would create a website with biographical information about all of the people parks and streets have been named for. ("People are always asking, 'Who's that lady, Gale?'")
Another, prohibiting sexual harassment of interns, has already been signed into law, as was an expansion of the paid sick day bill that Ms. Brewer worked on under the previous speaker.
Coming up, she aid she said,  she hopes to work on legislation that will improve transparency at the Landmarks Preservation Commission, which some have complained has allowed the demolition of cherished buildings without adequate public hearing.
While she no longer has the power to introduce laws independently, per the city charter, she said that she's had no trouble finding members with shared interests willing to work with her.
"They've been very, very warm and very, very open about it," she said of the council's members. "Nobody's said no. Everybody's said yes. And I really, really appreciate it."
That include members who may be weary of Manhattan's highest-ranking official, aside from Mr. Stringer, thanks to the outer-borough pride of the de Blasio era.
"I think Brooklyn pride is good and I understand the mayor being from Brooklyn. But Manhattan does have so many wonderful neighborhoods and advantages," she said. "It's still the center of the five boroughs, whether Mr. de Blasio wants to know it or not."
Updated at 1:10 p.m. with comment from Mr. Stringer.