Four years ago, the art dealer Marianne Boesky decided to expand beyond her flagship Chelsea gallery on West 24th Street by opening what she refers to as a curatorial "laboratory" in a townhouse on the Upper East Side. Next month, Ms. Boesky is expanding yet again, this time to the Lower East Side.
Boesky East, as she will call the 1,110-square-foot branch in a former hair salon at 20 Clinton Street, will open on May 4, in time for the international crowd rolling into town for the Frieze New York art fair, with an installation by Italian artist Pier Paolo Calzolari consisting of frost that builds up on the artwork. In the morning, the piece will frost up, and in the evening the frost will begin melting. Visitors will be able to view the piece from outside the space, through windows. That exhibition will run through July, while renovations are made to the space. Official programming kicks off with a show of gallery artist Adam Helms in September. The following month brings an exhibition of Melissa Gordon, and Serge Alain Nitegeka's work goes on view in November. 
Boesky Gallery shows a wide range of artists—from 30-somethings to 80-somethings. Ms. Boesky refers to her gallery as "midsize, not mega blue chip." The downtown space grew out of frustration with certain aspects of the Chelsea gallery experience. "People don't come to 24th Street to discover things," she said in an interview. "They come with an expectation of price point and a point in the artist's career. With emerging and mid-career artists who are less known" that can be a less-than-ideal environment. The Lower East Side offered a new perspective. "The whole community around the Lower East Side is about discovery," she said. "People come there with a different mindset."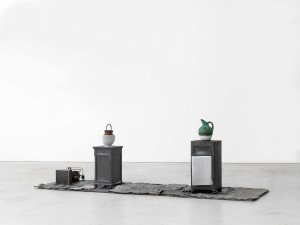 Ms. Boesky plans to make relatively minimal renovations to the space, preferring to retain a "gritty, vernacular" feel. Her attraction to this particular area of the Lower East Side came from the context. "I'm surrounded by strong young women [gallerists]: Bureau, Nicelle Beauchene, Lisa Cooley." In addition to current Boesky director Veronica Levitt, she plans to appoint a new director to the new space, on which she has taken out a five-year lease. After that, she said, she will take stock, and may move to a larger space in the neighborhood. She acknowledged that a presence on the L.E.S., with its thriving scene for emerging artists, indicates a continuing interest in taking on new additions to her stable. "I'm always looking to add young talent," she said.