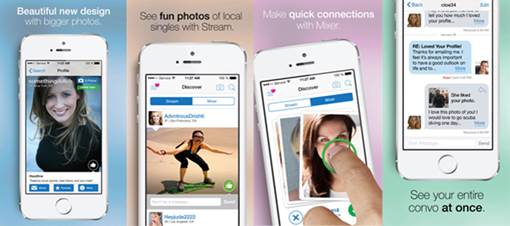 Remember Match.com? It's that dating site that makes you read words about people before officially deciding whether or not you want to talk to them?
Well, it now has an app — and there are way fewer words involved. In fact, you might say the app looks a lot like Tinder, everyone's favorite sex video game.
"The sleek update doesn't just LOOK better, it boasts iPhone-exclusive features like 'Stream' and 'Mixer,' helping singles make quicker connections with familiar swipe-to-like functionality and an endless array of photos," a Match press release reads.
Hmmm yes, that swipe-to-like functionality is pretty familiar! Match.com clearly borrowed it from Tinder. The actually two have the same parent company, IAC.
The Tinder-like feature, called Stream, "serves you photos of singles by utilizing an innovative algorithm, finding the members who are closest to you," a Match.com blog post reads. "Stream highlights additional photos in a member's profile in addition to the primary profile pictures, helping you discover more of someone's personality.
The Mixer function allows users to meet new people "at warp speed," Match's blog says. "By combining another exclusive algorithm using geographic location and the latest swiping technology, Mixer allows you to browse through profiles easier than ever before."
Betabeat has never used Tinder for anything but research purposes, pinky promise, but we've heard from Tinder devotees that the app is changing the online dating game — and that writing an online dating profile, the way one does when using conventional dating sites, is really hard. So this is good news for the single people of the world.
Match.com also polled 1,753 iPhone users and 1,863 Android users for some supplemental information. We've never been able to withstand the allure of a Match.com stat, so here are the results:
• Seventy percent of iPhone-owning singles are comfortable casually dating more than one person at a time.
• More than half of iPhone-using singles — 54 percent — check their phones while on a first date (rudely, tbh).
• Seventy-eight percent of single iPhone users feel comfortable kissing on a first date.
• More than half of single iPhone users, 55 percent, had sex at least once a month last year, and they had it more times per month than Android users, of whom only 51 percent had sex once a month. Dweebs!
• Also, that's not enough for iPhone users, of whom 60 percent want to have more sex this year.
• More than half — 56 percent — of single iPhone users have had friends with benefits relationships.
• Eighty-two percent of iPhone-owning singles would be comfortable dating someone who has had sex with more people than themselves.
• Thirty-three percent of iPhone-owning singles judge a potential date by the devices they carry, while only 28 percent of Android phone owners do (because they realize their phones are lame so they have no right).