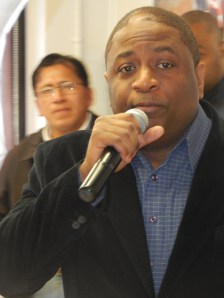 Fulop and the Schools Question
2017 gubernatorial hopeful Jersey City Mayor Steven Fulop will be a winner if anti-Democratic Party establishment Ras Baraka is victorious next month, but he also faces hard questions about loyalty. A year ago, the schools reform movement threw its support to Fulop in his own mayoral contest, only to watch the Jersey City mayor a year later back the Newark mayoral candidate staunchly opposed to the agenda of Better Education For Our Kids. It can be argued, in fact, that more than any other single issue, education fueled Baraka's candidacy as a counterpoint to Schools Superintendent Cami Anderson's One Newark plan. The Jersey City mayor is all in. What does that say about his commitment to the goals of B4K?
The Democratic Party Establishment on the Line
We can already see the shrugs of party people dismissing the premise and the objection: there are non-partisan elections. But the Democratic Party establishment, fragmented as it is, decided to back at least two candidates in critical races in this May cycle: Shavar Jeffries in Newark and Council President Andre Sayegh in Paterson. The Passaic County party organization backs the latter, just as the Essex County Democrats led by powerful County Essex Joe DiVincenzo, back the former. Losses in both theaters of political combat will underscore weaknesses in the same political outfit that essentially chose love not war during last year's gubernatorial contest. If Christie has excruciating internal weaknesses in an NJGOP that put up the unknown Brian Goldberg of Essex County to run against Cory Booker, Booker's party will show signs of a less than awe-inspiring grassroots political operation. How that impacts the longer term designs of someone like establishment-grounded Senate President Steve Sweeney (D-3) will be a seminal political question. If Jeffries and/or Sayegh triumph, however, the party establishment will get a substantial boost on the ground.
Morris' Challenge in Paterson
For 12 years, veteran At-Large Councilman Ken Morris has found a way to win. He has his own citywide name and a loyal following. But the distinguished St. Joseph's Hospital executive has an especially interesting arguably ironic challenge this year. While Morris led the investigation into the city's Hurricane Irene overtime scandal, he also faces the prospect of lower African-American turnout as a consequence of that exposed scandal, as voters face the real choice of sitting home in defiance of incumbent Mayor Jeff Jones. In 2010, Morris had the reinforcement of real African-American political power in the city as popular recreation department head Assemblyman Benjie Wimberly (D-35) helped drive turnout in his council bid. Morris's "Wimberly Bounce" four years ago will be replaced this year conceivably by a Jones crater, making Morris' brand name mechanical effort that much more critical on May 13th. However, there are eight people running for three seats, one of which (currently occupied by Councilman Rigo Rodriguez) is vacant, including three African-Americans.
The Dominican Factor in Paterson
The largest growing political community in Paterson faces a particularly enlivened electorate as a consequence of two key collisions. First, two Latino candidates, Board of Ed. Commissioner Alex Mendez and Passaic County Community College administrator Maritza Davila, are both running aggressive candidacies for city council seats in an eight-person race with three seats at stake. Mendez is playing the Dominican card hard. Half-Peruvian, half-Puerto Rican Davila – a Democratic Party acolyte – has a Dominican son and is going for votes across the spectrum. These council candidates' ubiquity on the campaign trail is sparking real political activism among Dominican voters. The mayor's race, too, features two high octane Dominican candidates: At-Large Councilman Rigo Rodriguez and retired Passaic County administrator Maria Teresa Feliciano, both of whom continue to drill into competing pieces of the Dominican voting bloc.
Trenton's place in the June Primary in question
The CD 12 Democratic Primary forces of state Sen. Linda Greenstein (D-14) are convinced that Trenton voters will be sufficiently fatigued as a consequence of a bloody May 13th local election that they will not have it in them to show up to the polls on June 3rd. They also delight in a Mercer mess of conflicting loyalties and subtexts, among them frontrunner Eric Jackson's irritation over Greenstein's chief rival, Assemblywoman Bonnie Watson Coleman (D-15), support for Jackson mayoral rival Walker Worthy. But Watson Coleman has her own intergenerational brand name in Trenton and trusts in her ability to resolve the political disputes at the heart of the May election. Legislators committed to sleeping outside tonight in the capital city conjunction with Covenant House in an effort to underscore the issue of homelessness are scheduled to do so with the presence of local pol Watson Coleman. In order to beat the Middlesex-based Greenstein, Watson Coleman will need high voter turnout in her Trenton base.