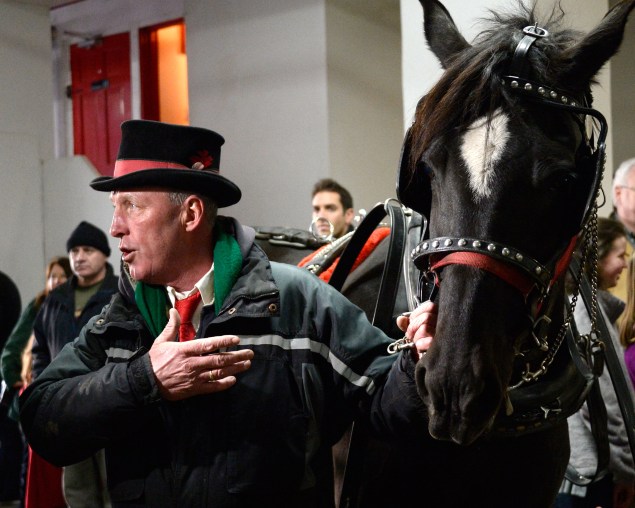 Mayor Bill de Blasio was challenged this morning by the hosts of a hip-hop radio station to "kick" Liam Neeson's "ass" because of the Irish actor's efforts to save the city's horse-drawn carriage industry.
"What's up with this guy Liam Neeson? He's an animal," commented one of the hosts interviewing Mr. de Blasio during a morning appearance on Hot 97.
"De Blasio, kick his ass! He cannot fight like he does in those movies in real life," urged another.
"You're way bigger than him," the first weighed in.
Mr. de Blasio has been facing an onslaught of criticism from the Daily News, other editorial boards and the carriage industry, which are urging him to reverse his plan to ban the tourist staple by the end of the year.
Asked about "the huge brush back you're getting," Mr. de Blasio again explained his opposition and made clear he was sticking to his guns.
"Once upon a time I felt, 'Oh, what a quaint, nice part of New York City.' And then I did the research and talked to people who really understood what this was doing to the horses," he said. "And also just the common sense: what is a horse doing in the middle of New York City traffic? … And it just became clear to me: this isn't humane and it isn't right."
"From my point of view, it's just a matter of basic humanity and common sense," he added.
Later, the hosts suggested that Mr. Blasio's experience was similar to the treatment of the station, which they said gets lots of "hate" in the press, but is beloved by the people they meet on the street.
"I have learned a long time ago there's a big difference between the polls and the commentators and the pundits versus the people," agreed the mayor. "You know, the bottom line is: when you're out with people, when you're at the grassroots, you hear something very, very different. A lot of times, the people will show you long before any of the polling what they're feeling."
Indeed, when Mr. de Blasio talks with everyday people riding the subway or in the street, he said, they want to talk about the universal pre-K and expanded after-school programs the city is working to roll out, the expansion of mandatory paid sick leave he secured, and better relations between community and police–things Mr. de Blasio said make a tangible difference in people's lives.
"A lot of the hype, a lot of the commentary is about personality and celebrity and little conflicts. But the real people in this town–average, everyday New Yorkers–are feeling the challenges of their lives," he said. "They want to see government do something about it. If you actually do something about it, they'll feel good about you."
As for his first 100 days in office, Mr. de Blasio said his biggest regret was not doing a good enough job getting his message out.
"I think there's times when I didn't communicate well enough and I've gotta do better. I think that's the bottom line," he said–insisting, however, that that had nothing to do with getting booed at the Mets season opener.
"Oh no. I think that is equal opportunity," he said. "I think anybody elected to office who steps on a baseball field–it could be Moses–you're going to get booed."