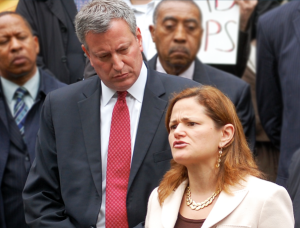 As Congressman Charlie Rangel is lambasted by supporters of his chief challenger, Adriano Espaillat, for failing to open a second district office in the Bronx, one of Mr. Espaillat's most high-profile backers finds herself in a similar spot.
Council Speaker Melissa Mark-Viverito has yet to open an office in the borough more than 100 days after taking the helm of a newly-redrawn district that now stretches from East Harlem into the South Bronx.
Ms. Mark-Viverito's spokesman, Eric Koch, said that finding a second office was a top priority, but that the East Harlem explosion, which happened just around the corner from Ms. Mark-Viverito East 116th Street office–combined with other challenges–had slowed the search.
"The Speaker's district office has long held office hours in the Bronx and even though some spaces have fallen through for reasons beyond our control we remain committed to finding a permanent space to serve her constituents," said Mr. Koch.
Ms. Mark-Viverito's staff had been office hours at the Millbrook Houses in the borough every Friday from 10 a.m. to 12 p.m, prior to the explosion, he said.
During her campaign, Ms. Mark-Viverito had pledged to open a "full-functioning" second office in the Bronx, if re-elected to represent the 8th district.
She kicked off her campaign with a march across the Third Avenue Bridge from East Harlem to the South Bronx–a move symbolic of her effort to "bridge the gap between these communities and make this a city that belongs to all of us," she reportedly said that the time.
Unlike state and federal lawmakers, it is unusual for council members to have more than one district office.