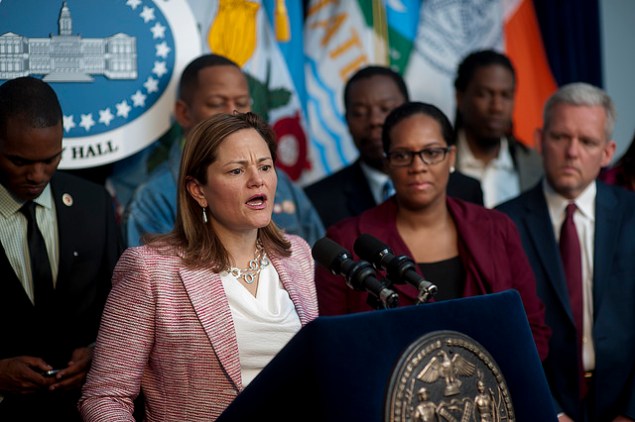 City Council Speaker Melissa Mark-Viverito will host a fund-raiser for Domenic Recchia, the Democrat trying to take out indicted Congressman Michael Grimm.
Ms. Mark-Viverito will host a happy hour cocktail reception for Mr. Recchia, a former councilman, on May 6 in Manhattan, according to an invitation obtained by the Observer.
"Join New York City Council Speaker Melissa Mark-Viverito for an happy hour cocktail reception in Downtown Manhattan to support of [sic] Domenic M. Recchia, Jr.'s congressional race against Michael Grimm, the LAST Republican left in New York City," reads the invitation. "This will be a great opportunity to come learn about the campaign and how Democrats nationwide believe that we will turn NY-11 from red to blue."
The fund-raiser will be held at Zutto, a Japanese-American pub in Lower Manhattan, according to an RSVP form. The email invitation was sent on April 23, two days before Mr. Grimm's attorney announced the congressman's pending indictment on various mail and wire fraud charges.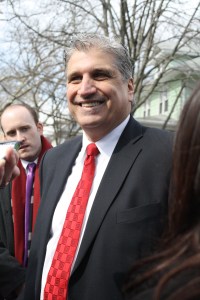 While the allegations have badly damaged Mr. Grimm's re-election prospects and led some observers to argue that Mr. Recchia's chances of prevailing in November have improved dramatically, at least one close watcher of the race told the Observer that Ms. Mark-Viverito's support could become a liability for Mr. Recchia in the right-leaning district.
"Well clearly Melissa I don't think represents the views or people of the congressional district in any way shape or form," said Mike Long, the chairman of the New York State Conservative Party and a supporter of Mr. Grimm, in an interview. "In fact, she's the polar opposite of the residents of that district I think it will give pause to some voters about the type of congressman Domenic Recchia is going to be."
Staten Island was the only borough that Mr. de Blasio lost in the general election last year. A spokesman for Ms. Mark-Viverito confirmed the fund-raiser was taking place but declined to comment. A spokeswoman for Mr. Recchia and Mr. Grimm's office did not immediately return requests for comment.