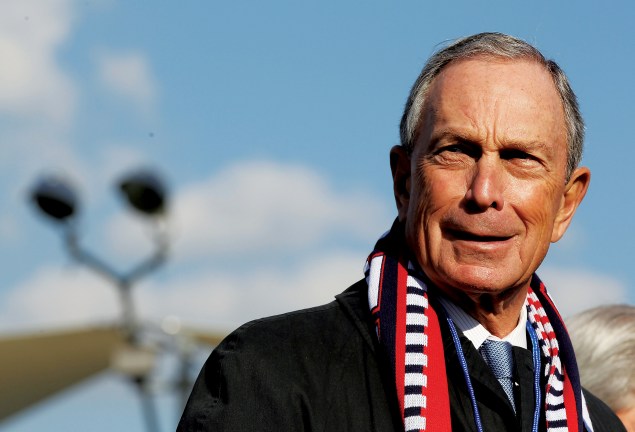 New Yorkers are incredibly generous with their time and money, and I got to see just how true that is when I was mayor. By forming public-private partnerships, we raised nearly $2 billion to support the city and help New Yorkers. Those donations were instrumental in enabling us to form a Center for Economic Opportunity to pioneer new ways to fight poverty. Million Trees NYC—our program of planting one million trees across the five boroughs—could not have happened without private support. Governors Island would not be what it is today without generous support from individual New Yorkers. And arts and cultural groups across the city benefitted from the public-private partnerships we formed.
Recently I went to the White House to help President Obama launch a national public-private partnership modeled on one we formed here: the Young Men's Initiative, which helps young black and Latino men overcome barriers to success. It has shown promising results here, and the president is right to ask philanthropists around the country to help him take on the issue nationally.
Philanthropy is not a substitute for public spending, but it can supplement it—and help governments do more and innovate more boldly. That's why, through my foundation, we created a program called the Mayors Challenge, which is a competition designed to encourage cities to pursue innovative new policies. The winning city—Providence, Rhode Island—received $5 million to implement its idea: working to help low-income parents increase the number of words that their children are exposed to, which is proven to help them succeed in school. Four other winning cities each received $1 million to help them implement their own innovative ideas.
Since leaving City Hall, I've had more time to spend on philanthropic work. My foundation's goal is to help the greatest number of people live better, longer lives, and to do that we work in five primary areas: public health, education, the environment, government innovation and the arts. We look for preventable problems that haven't gotten the attention they deserve—and for places where the right resources can make a real difference. 
For instance, in Turkey, we supported a media campaign that helped pass a national smoke-free law—similar to New York City's landmark Smoke-Free Air Act of 2002. We also helped citizens there push for higher tobacco taxes, graphic pack warnings and bans on tobacco advertising to kids. Policies like these were very effective in driving down smoking rates in New York City—and in Turkey, they've helped reduce the number of smokers by more than one million. 
When I was mayor, I was never afraid to take on tough subjects or big special interest groups if it helped improve lives. I take the same approach with philanthropy. That's why we've partnered with the Sierra Club to shut down coal plants and keep new ones from opening, which will improve public health, protect our environment and slow climate change. We've gotten commitments from more than 160 coal plants to close, more than halfway to our goal of 300. 
There are many ways to make a difference—and all of us can. I gave my first contribution to my alma mater, Johns Hopkins University, the year after I graduated. It was $5. That was all I could afford. But I never stopped giving, because my parents instilled in me the importance of giving back, and that has made all the difference in my life. 
I believe that the ultimate in financial planning is to bounce the check to the undertaker. As the old saying goes: You can't take it with you. Some people wait until they die to give away their money, but I've always thought they're crazy, because the feeling you get from making a difference is incredibly inspiring. That's why I loved being mayor—and that's why I'm passionate about philanthropy. Every day is an opportunity to make a positive difference in people's lives, and every morning I get up determined to make the most of it. 
Philanthropy can be a powerful force for change, and I'll continue doing everything I can to leave an even better world—and a better city—to my daughters, my grandson and the generations to come. 
Michael R. Bloomberg was the mayor of New York City from 2002 to 2013.