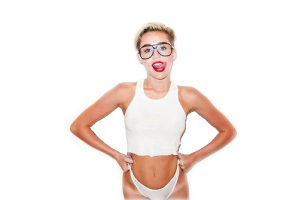 The other day in Greenwich Village, I saw something I haven't seen in maybe 15 years.
It was a very particular style of purse-backpack—quite small, with two long, vinyl shoulder straps—that used to be popular among club-going, 20-something girls in the 90s. Back in the day, it was often made out of clear plastic to show off the must-have accessories of the moment, like glitter lip gloss and a Hello Kitty coin purse.
The kind of girl who liked them also favored gladiator sandals and straight hair worn just below the shoulders, which she would flick in your face when you stood behind her in lines. It was a magical time.
Flash forward to a sunny day in 2014, and there it was on 7th Ave, being worn by a fey, doughy boy of around college age. His mother could well have been wearing the same thing at Tunnel, 20 years before.
The sighting just seemed to be an isolated curiosity until Saturday night, when I went to see Miley Cyrus at the Barclays Center.
The tip-off should have been the crowd: 18,000 teenage girls from New Jersey and Long Island, each dressed to go roller-blading in Venice Beach circa 1995. It was one long fashion parade of crop-tops, bustiers and high-wasited spandex shorts. The place looked like a casting call for an LA Gear commercial.
But it was not until Miley herself appeared on stage that I made the connection: she was wearing that backpack.
Miley—born Nov. 23, 1992—is popularizing '90s fashion among her teenage fans. With her platinum pixie cut and Spice Girls-era accessories, there were moments when the show could have been a Cranberries concert. (The number with the twerking plushies—hip-hop backing dancers dressed as cuddly mascot animals—was not one them.)
But those of us who experienced the '90s the first time around will notice one striking difference: the hyper-sexualization of modern teen culture, of which Miley is at the vanguard.
Under Miley's stewardship, the version of the '90s that has come back into fashion is the one that used to be on Cinemax after 11pm. Her young fans look like they're channeling Elizabeth Berkley in both "Showgirls" and "Saved By The Bell" at the same time.
Also, I don't recall girls making out with each other so much back in the original '90s. But the Bangerz tour comes complete with a jumbotron kiss-cam, and positively encourages it.
Maybe the girls had to turn to each other because there were so few boys available as an alternative. Judging by Saturday night at the Barclay's Center, Miley's fan-base is not especially diverse, being overwhelmingly white and female.
(Plus a smattering of young gays for whom Miley is their generation's Cher, the poor bastards. Good luck pulling off that drag homage in your 40s, boys.)
So these girls may have all been dressed like they were trying to sleep with Jonathan Taylor Thomas, but when the kiss cam came on, they were stuck with each other.
I left during the second-encore grand finale, Miley's 2009 hit Party in the USA, the staging of which involved, among other things, her mock-fellating a dancer dressed as Abraham Lincoln. Amid all the '90s reinvention, could this presidential sex act have been a witty Monica Lewisnky reference?
No, it couldn't. Because while a Miley Cyrus concert is certainly a lot of fun, witty it aint. There's only so much room in those tiny backpacks.