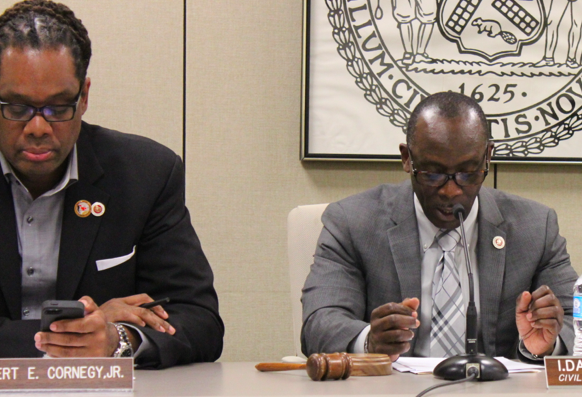 A City Council hearing today on a resolution calling on Albany lawmakers to let the city raise its own minimum wage saw arguments from a host of community experts and advocates–including some who slammed the plan as a job killed.
Resolution 189 would call upon Albany allow New York City to establish its own minimum wage, independent of the rest of the state. The resolution, which was formally introduced to the City Council yesterday, specifically calls on lawmakers to pass A.9036/S.6516, which would authorize local governments to raise and enforce their own minimum wages, using the state minimum as a floor.
"While we are grateful to the state for raising the minimum wage to $9 an hour in 2016, it remains pathetically low," said Councilman I. Daneek Miller, chair of the council's civil service and labor committee, in his opening remarks. "New York City should not have to ask permission to give its lowest-earning income workers a break."
But not all attendees agreed with the plan, which has the backing of Mayor Bill de Blasio. Speaking against the resolution, small business owner Daniel Powers Jr. voiced concern that higher wages would restrict local businesses' ability to hire workers.
"I am worried about the precedent you are setting for our future economic success, our kids' ability to find a job, and our city's growth," Mr. Powers said. "Given that New York State has already approved minimum wage increases, I urge you to focus your energies elsewhere."
Even council members at the hearing expressed some reservations about increasing the minimum wage too quickly.
"The onset of [increased worker benefits] in anything except incremental causes a great burden to small businesses," said Small Business Committee Chair Robert Cornegy Jr. "I'm very concerned when we talk about these things … If we increase wages the ability to hire decreases, then it sets this whole city in another direction."
But according to James Parrott, the Deputy Director and Chief Economist at the Fiscal Policy Institute, an increased minimum wage would do little or no damage to the local economy.
"We looked at employment growth in small businesses overall, establishments with fewer than fifty employees, and compared job growth in the states that had a higher minimum wage with the states that were at the federal minimum wage," Mr. Parrott said at the hearing. "What we found was that there was no adverse result for the small businesses, either the numbers of small businesses, or the employment growth in small businesses."
Mr. Parrott also cited a recent poll that suggests that most New York small business owners support raising the minimum wage and legislation that would allow for local wage-setting.