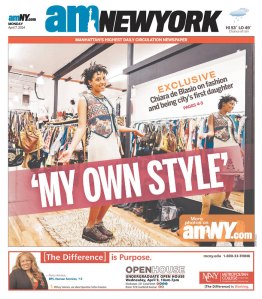 Headline of the Day: "Obama's 'Negro problem,' and mine."
State Comptroller Tom DiNapoli will opt out of the public financing system just enacted by state lawmakers, after spending decades calling for a similar system, the New York Times reported. "Mr. DiNapoli says the new system is a badly written, sloppy piece of legislation that was obviously rushed into effect — 'a Frankenstein monster,' he calls it…"
By adhering to the system, Mr. DiNapoli would have to forgo more than 70 percent of the roughly $2.1 million in contributions he's raised. "What they did is take something well-intentioned and hijacked it for their own short-term purposes, very much at my expense," he railed. "I have always been willing to have reform start with the comptroller's office," he said, "but I will not be a convenient sacrificial lamb."
The Wall Street Journal took an early look at Mayor Bill de Blasio and City Council Speaker Melissa Mark-Viverito's first 100 days on office and concluded that, while the new mayor "has displayed a talent for marshaling energy around a cause," "he has shown less aptitude for managing a complex city government and navigating the city and state's turbulent politics." "He hasn't convinced the average New Yorker that he's a manager," Columbia's Steven Cohen said.
Ms. Mark-Viverito, meanwhile, is "still largely in sync" with Mr. de Blasio, while trying to assert her own independence. "So far, it isn't clear how Ms. Mark-Viverito, a 45-year-old East Harlem Democrat, plans to distinguish herself from a mayor with whom she agrees on most issues," wrote the paper, which noted that, "when there were opportunities to criticize the mayor, the speaker has appeared hesitant."
Congressman Charlie Rangel is back on defense following allegations that he failed to pay the state at least $87,000 in rent for his district office in Harlem's Adam Clayton Powell Jr. State Office Building. According to the New York Post, the state forged a "sweetheart" deal with Mr. Rangel in March 2013 that allowed him to postpone paying six months of rent, but has yet to pay anything for the year.
Mr. Rangel meanwhile blamed the lapse on sequestration. "As everyone knows, the GOP sequester not only constrained our nation's economy, but also strained the budget of congressional offices," responded his spokeswoman, Hannah Kim. But, the paper noted, sequestration began in March 2013," two months after records show Rangel stopped paying rent."
Assembly Speaker Shelly Silver has put on hold $185,000 in funding to nearly 20 Manhattan community groups secured since 2009 by embattled Assemblyman Micah Kellner, who is appealing sanctions following sexual harassment allegations, according to the Daily News. "I certainly hope that this is simply a bureaucratic mixup," Mr. Kellner told the paper. "I can't believe the speaker would be so petty as to punish children, seniors and New Yorkers with disabilities."
Mr. de Blasio is expected to name Tom Finkelpearl, the current president and executive director of the Queens Museum, as his new commissioner of the cultural affairs later today, theTimes reported Sunday. "Tom believes that art is for everybody, and has developed an exceptional record of fortifying the city's cultural institutions across all five boroughs," Mr. de Blasio told the paper. "That's exactly the kind of energy, leadership and creativity that we want."
And amNewYork spent some time shopping with Chiara de Blasio, who "doesn't dress like a typical politician's daughter — and she doesn't plan to — no matter who her father is." The 19-year-old Ms. de Blasio, who "became the style star of New York City's political scene," during her dad's campaign, describes herself as "the fashion coordinator for my family," and said it was her idea for them all to wear red on election night: "I tried to take an initiative to get some color synchronicity going on."