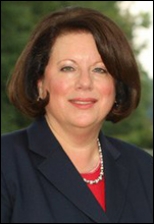 State Sen. Linda Greenstein (D-14) snagged the endorsement of the New Jersey State Association of Pipe Trades on Monday.
The group, which is comprised of more than a half dozen local unions, represents more than 10,000 members throughout the region.
"What we need in Washington is someone who will follow Rush Holt's principled leadership that understands the value of work and represents the best of every single one of our hard-working families, and Linda Greenstein will provide that leadership," said association president Jim Kehoe. "I know she'll be that strong voice to stand up to the attacks of the Paul Ryan wing of the right, and to the attempts by the Koch Brothers and other billionaires to buy political power at the expense of everyday Americans."
Greenstein is battling against Assemblywoman Bonnie Watson Coleman, Assemblyman Upendra Chivukula and Andrew Zwicker in the Democratic primary to succeed outgoing U.S. Rep. Rush Holt (D-12) in Congress.