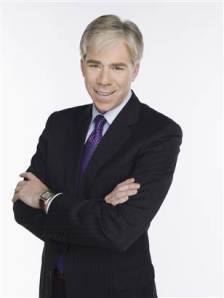 Did NBC bring in a psychological consultant to figure out how David Gregory could get better ratings for Meet the Press? The network says no after a Washington Post story reported that this morning.
According to the story, NBC commissioned a psychological consultant to interview host Mr. Gregory's wife and friends.
That detail was turned into an item by many news organizations (or at least included in morning round-ups). NBC promptly sent out an email to those of us who wrote about it, disputing that detail:
"Last year Meet the Press brought in a brand consultant—not, as reported, a psychological one—to better understand how its anchor connects. This is certainly not unusual for any television program, especially one that's driven so heavily by one person," an NBC spokesperson said in an email.
But Washington Post media reporter Paul Farhi, who wrote the story, stands by his reporting.
"I checked that twice yesterday with NBC folks. No objections then," Mr. Farhi said in an email to the Observer.