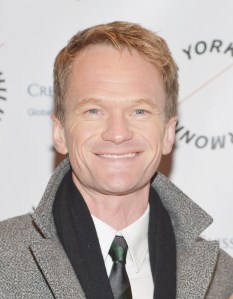 Neil Patrick Harris, who is among the names being talked about as a potential successors to the Late Show's David Letterman, said today he hasn't had any conversations with CBS officials about the late-night gig.

"I'm super focused on Hedwig at the moment, so that hasn't even been a conversation at all," said Mr. Harris, who is currently starring in Broadway's "Hedwig and the Angry Itch," when asked whether he would consider the job.
"But I'm a big fan of CBS and Les's, so who knows?" he added, referring to CBS chief Leslie Moonves.

Mr. Harris addressed the speculation during a press conference today with Senator Chuck Schumer and other Broadway stars touting the benefits of potential new theater tax breaks.
Asked whether he thought the job would be "fun," the How I Met Your Mother actor seemed skeptical. "It would be an asinine amount of work," he said.
The Observer asked whether he felt it was important that the show stay in New York. Los Angles Mayor Eric Garcetti has been lobbying hard for the show to move to California after the state lost The Tonight Show to New York earlier this year.
"Well, I'll answer that," interrupted Mr. Schumer, who said he would lobby the show to stay put.
"I think that we saw with NBC how great it is to have the shows be in New York and that's why they're flocking back here," he said, urging "the mayor, governor and all of us in the congressional delegation to do everything we can to keep Letterman in New York."
As for his own thoughts on the show's successor, Mr. Schumer was more vague.
"Well, I'm not going to say," said Mr. Schumer. "We have a lot of good candidates, we really do."
Among those bandied about include 30 Rock's Tina Fey, The Colbert Report's Stephen Colbert, E!'s Chelsea Handler, and stand-up comic and namesake Amy Schumer–whom Mr. Schumer revealed is actually his second cousin.
"Let's stay within the family," he joked when asked whether he was rooting for her.
Mr. Harris has a long history with CBS. How I Met Your Mother aired for nine seasons on the network, and he has also served as host of the station's Emmy and Tony awards broadcasts.