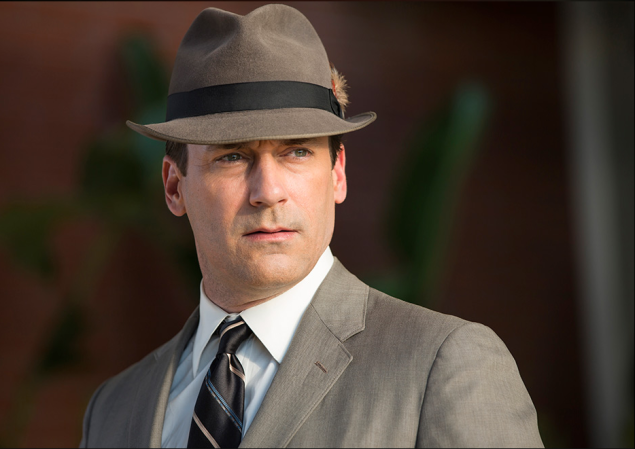 Wahoo, the swingin' '60s! A time when hemlines were high, inhibitions were low, the acid was flowing and the fun never stopped.
Except on Mad Men. On Mad Men, no one has fun, at least not this season — well, no one except Pete Campbell, who hardly deserves it.
The show trudged back onto our TV screens last night with none of the fireworks a Mad Men premiere usually brings. Gone are the days of "Zou Bisou Bisou" and Don's Hawaiian mortality freak-out. Nope. This season premiere, all we got was a cold pastrami sandwich with coleslaw smeared on the bread.
In this season's opener, "Time Zones," we have the most face time with Peggy, Joan and Don — each of whom is kicked around all episode long. Peggy gets berated by an 11-year-old, Joan has an earring launched at her face, and Don? Ugh. We'll get to Don. And we don't even get a Peggy-Joan girls' only pep talk to cleanse our palates afterward.
The point is, they all end the episode more miserable than they were in the beginning. And that's saying something.
PEGGY'S EXISTENTIAL DISSATISFACTION INDEX: 8
The episode opens with a close-up of Freddie Rumsen's face. Freddie is pitching a concept for a watch ad. The tagline is, "Accutron: It's not a timepiece, it's a conversation piece." Clearly Freddie didn't come up with it.
Of course, we later find out that he's parroting a pitch Don devised. To make it her own without actually doing much work, Peggy changes the tagline to "Accutron: It's time for a conversation," thereby botching Don's work. It doesn't interest her temporary boss, Lou Avery, who isn't up for much of anything but making Peggy feel like a stupid little girl.
He prefers the crummy slogans "Just in time to be on time" or "Accutron is accurate" instead. When Peg asks him to reconsider hers, he snaps, "I think you're putting me in a position of saying, 'I don't care what you think.'"
Me-ow. Turns out Lou is the worst.
But right when we might have started pining for the chipper days of Chaough, Ted drops in for a gloomy visit. He moved his family out west to get away from Peggy, remember — but not until after he'd slept with her and assured her he'd leave his wife. So Peggy tries to avoid him.
As if her day at work wasn't bad enough, Peggy is hassled by the son of her tenant as soon as she gets home. In the middle of last season, she had it all — a boyfriend who loved her, two bosses who respected her (well, as much as the average man would respect his female underling in 1968, I guess), a new home and options. Now, she goes home to an empty apartment that she clearly can't handle owning, and her only company is the kvetching offspring of her tampon-happy tenant.
Peggy continues to be berated at work (et tu, Stan?), field complaints from her tenant, and go home alone. This woman needs a friend. What happened to her former BFF, Zosia Mamet? Can't Matthew Weiner steal her back from Girls?
So it's not surprising that she ends up sobbing on the floor at the end of the premiere. If we were her best friend attempting to soothe her, we'd say, "Hey, at least you're young. You've got your whole life ahead of you." Unlike our other two protagonists…
JOAN'S EXISTENTIAL DISSATISFACTION INDEX: 7
Joan's plotline begins this season as she stands outside Kenny's door listening to him scream at two junior account men. He's still rocking the eye patch, but this season, he's also got a sour attitude to go with it.
He asks Joan how many accounts he has, as if she's still a secretary, then proceeds to kvetch about how busy and important he is. He complains to Joan that Butler Shoes — sorry, Footwear — has hired a new head of marketing who they want Ken to meet. He doesn't want to go because he knows Butler is about to sack SC&P, and he thinks that type of meeting is beneath him. Joan suggests he send Roger or Cutler.
"That's two dumb ideas," Ken barks. "You're not listening to me. This is a hierarchy, do you understand that?"
He then tells Joan to go in his stead — failing to realize that, in the aforementioned hierarchy, Joan ranks above him. Can you imagine if a woman threw this kind of hissy fit? Ken would probably shoot back, "What, are you on your period?"
When Joan meets up with the Butler marketing head, Wayne Barnes, he can't seem to fathom the fact that Ken isn't coming. He acts like Joan's wasting his time, but lets spill that he's bringing Butler's advertising in-house. Joan tries to solve the problem, but he further insults her by bailing on the meeting.
Joan then consults with a business school professor; momentarily assumes he's propositioning her because that's usually the case; and then trades information with him so that he'll tell her how to handle the Butler situation.
Then, it's go time. Joan uses Ken's office to make a drink and call Barnes. She takes off an earring before putting the phone to her ear, conjuring memories of Lady Macbeth's "Unsex me!" soliloquy. She then drops some serious knowledge on him, pointing out that shoe sales are going to plummet either way, and if he makes a bold move by firing SC&P right now, the blame for the poor numbers will fall in his lap.
Barnes then asks Joan, "What am I supposed to do?" and somehow makes even this supplication sound like an insult. She tells him he should cancel the meeting with SC&P and that she'll follow up to make sure it gets done, and he further insults her by saying, "You'd better," before hanging up.
Later, Kenny the Pirate barges into Joan's office and chucks her earring at her while barking, "Stay out of my office!"
The saddest part of Joan's plotline in this episode, though, is that ever since she slept with man-toad Herb to secure her partnership, she's grown more and more accustomed to such shitty treatment. But somehow, she stays composed throughout the abuse, rarely even letting go of her Marilyn Monroe purr. Even when Joan snaps, as she did on the phone with the horrible Barnes this week, she still seems calm and collected. Can we expect that someday soon, she'll finally have a real freakout, messing up more than just her earring? Knowing her, probably not. But it would be amazing.
And here's Don!
DON'S EXISTENTIAL DISSATISFACTION INDEX: 9.9999999 REPEATING
Don is shaving his face and tightening his tie to impress his just-this-side-of-estranged wife! Don is on a moving sidewalk in an airport! Don is still hanging on to that effing fedora!
While Spencer Davis Group's "I'm a Man" plays triumphantly in the background, Don is the picture of virility waiting to whisk his dame off to their shag mansion in the hills. And there she is — Megan leggily exits a smart convertible in slow motion, looking amazing in a powder-blue minidress. The slo-mo stops and Don compliments the car, which Megan clearly picked herself.
"Your flight was late," Megan says. "We don't have time to go home. One quick dinner and we'll have the whole weekend together."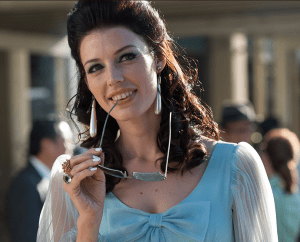 Don tries to open the passenger door for Megan, but she strides past him, explaining that she can't move the driver's seat. "I'm a Man" indeed. She then drives off with Don sitting shotgun, her updo somehow miraculously intact.
I'd love to have seen this scene from Megan's perspective; she's out hobnobbing with Hollywood people all the time, on the cutting edge of American pop culture. She goes to the airport to pick up her jobless husband, and he looks like he stepped directly out of 1959. He looks like he could be her dad. How could she not be disappointed?
It's easy to feel sorry for Don — he's out of a job, he's stuck in New York while his wife is living out his plan to move to L.A., and she doesn't even seem happy to see him. But honestly, after everything he's put her through, he's lucky she didn't ask for a divorce when he told her California wasn't happening anymore.
Back at Megan's house, which feels like a bachelorette pad, she slips up and says "my next house is going to have a pool — our next house." He passes out on the couch; he and Megan don't even share a bed on their first night together in what must be weeks.
"Don't work all day, okay? And don't rip the ads out of my magazines," Megan orders before she leaves for a class the next morning.
Don meets Pete at a New York-style restaurant in L.A., marking the first time I've ever been happy to see Pete Campbell's dopey smile in Mad Men history. He's the only truly at ease person in the entire episode — besides Bonnie Whiteside, the Bond-girl-slash-realtor who Pete's either dating, or trying desperately to date.
Pete dishes about how SC&P are faring on the West Coast, and we're reminded once again that Pete, Ted and Megan are living out Don's California dreams while he's stuck in New York. And at the New York SC&P office, nobody even utters his name through the entire episode. That's the worst part: nobody seems to miss him. Like an unremarkable Carnival cruise, the life Don imagined for himself is lumbering forward, ever so slowly, and he's stuck on the shore.
Another highlight of the Don-Pete exchange: the out-of-touch Don accuses Pete of being dressed like a hippie. Pete is wearing a Lacoste polo with a sweater tied around his shoulders. He couldn't look less like a hippie.
Then, the final insult to Don's manliness: he buys a giant color TV for Megan, and she's furious from the moment it enters the house. "It's huge. How's it gonna look, Don? Everyone I know here is starving."
Soon after, Don and Megan have the awkward bedroom push-and-pull that anyone who's let a dead relationship drag on too long will recognize. "Oh, let me brush my teeth." "Hold on." "Are you okay?" "I don't know."
For once, though, Don seems concerned about how Megan feels — if only because he wants to get her into the sack and he thinks curing her foul mood will accomplish that. It's a sad reversal from last season, when Megan was trying so hard to ply Don with food, love and sex, to no avail. Don's not cheating with Sylvia anymore (well, that we know of…), but it's too little too late as far as Megan is concerned. She's moved on from Don emotionally. I found myself wondering if she'd moved on physically, as well. Wouldn't that be the ultimate payback?
On Don's flight home, he meets a widow played by Neve Campbell. She talks about how her husband "died of thirst." She asks Don if he wants a ride home — and he tells her he has to "get back to work," making him the second person in this episode to lie to get out of sex. Jeez, don't these people know the Summer of Love is mere months away? Maybe they're just storing up.
Of course, Don isn't totally innocent in this scenario. He knows he led Neve Campbell on by telling her he was a terrible husband and implying he was willing to cheat. But he has to have some fun.
Finally, we learn Don has been feeding lines to Freddie, like Cyrano de Bergerac if Cyrano de Bergerac was devastatingly hot. Don and Freddie seemed more friendly with each other than usual, which prompted me to wonder if Don's seeking out Freddie's help in getting sober, in exchange for Don's creative prowess. We don't see Don drink a single drop of booze in this episode, do we? And when he's alone at night, he holds a liquor bottle in his hands, then puts it back and punishes himself by sitting outside in the freezing cold January air.
This wouldn't be the first time Don dealt with his urges through self-flagellation — remember when he was paying a prostitute to periodically smack him in the face, at the height of his miserable bachelor-dom? YIKES.
As usual, the episode ended with no possible hints as to what will happen next week.
EVERYBODY ELSE
TED: Has Ted ever been this mysterious, quiet and inscrutable? He's 100 percent work, and won't even admit to missing New York a little bit. He must still be in love with Peggy. Even Pete complains that Ted won't take advantage of what California has to offer, instead opting to scribble in his notepad.
ALLEN SILVER, Megan's agent: Ugh, this guy. Every single line out of his mouth felt totally canned. "Your girl is something." "Look at you two, you're my favorite couple." Does he even remember Megan's name? And then he implied that he wanted to get Megan's teeth fixed — over my dead body, Silver! The girl's flawless!
TRUDY CAMPBELL: Where is she? Bring her back.
ROGER AND MARGARET: Roger is descending ever deeper into his new bohemian lifestyle, although he looks about as much like a hippie as Pete does. The scene with his daughter Margaret was amazing, right? She "forgives" him for "all your transgressions, abandoning mother, making me ask for money, your intermittent interest in Ellery." First of all, nobody made you ask for money, and second of all, do you think your son will ever forgive you for naming him Ellery? This was just a great moment between two fully realized and incredibly flawed characters. Elizabeth Rice and John Slattery both played this scene hilariously.