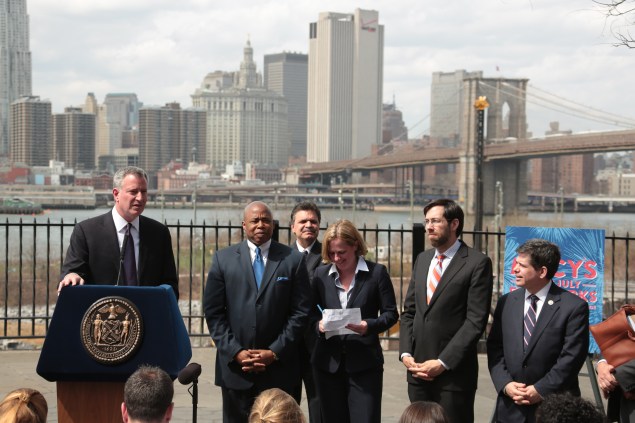 Sorry New Jersey, but New York has stolen the show again.
At today's press conference announcing the return of Macy's July 4th fireworks celebration to the East River, Brooklyn State Senator Daniel Squadron put it bluntly: "The big loser today is New Jersey."
Since 2009, residents of New Jersey have been treated to a fireworks show on the Hudson River, which separates the Garden State from Manhattan. But with today's announcement–first reported by the Observer–Brooklyn and Queens will get front row seats this year.
Asked about the potential disappointment for Hoboken residents, Mayor Bill de Blasio rhetorically shrugged.
"I will be magnanimous: Come over to Brooklyn," Mr. de Blasio, a proud Brooklynite, instructed. "Come over to Queens. Come on over and enjoy it with us."
"Folks from New Jersey will be more than welcome to join us on that special day. But I want to emphasize … they'll be welcome to spend their money while they're here," he added.
Mr. Squadron, standing away from the microphone, quietly cracked a joke to his colleagues at the expense of New Jersey's governor. "They can keep Chris Christie," he quipped.
Brooklyn Borough President Eric Adams also used the opportunity to remind New Jersey residents that they recently lost their basketball team to his borough too.
"Clearly we are two items in from the trifecta. We had the great Marty Markowitz, my predecessor, he reclaimed our Nets and now they're in Brooklyn. Now we're reclaiming our Fourth of July celebration," Mr. Adams said. The last, he said: moving the Giants football team.
"This is a New York experience and now Queens and Brooklyn will have the opportunity to appreciate the greatness of the celebration," he said. "There is only two types of people in the city: those who live in Brooklyn and those who wish they did; welcome to Brooklyn."
During today's announcement, Mr. de Blasio also pushed the more substantive argument for keeping the show on the east side of Manhattan: the potential for a larger audience.
"Just thinking in terms of total population–2.6 million people in Brooklyn and 2.3 million people in Queens, both growing–and you think of how much of the population is concentrated near the river. It's just a way to reach a lot more people. So regardless of what state you live in, a lot more people are going to benefit," Mr. de Blasio said.
"Now I happen to represent New York City very proudly, so my interest is making sure as many New Yorkers as possible benefit," added the mayor, "and that's what we did. "
Additional reporting by Jill Colvin.