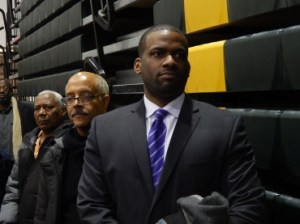 Pro-Shavar Jeffries independent expenditure group Newark First today launched its first Spanish-language television advertisement in support of Jeffries' Newark mayoral candidacy.
Jeffries is running in the May13th election against South Ward Councilman Ras Baraka.
The spot is the second cable TV ad from Newark First in support of Jeffries, and runs on Telemundo, Univision, Gala, and Mundo 2.
"Newark needs to move in a new direction – that's why Newark First will work tirelessly to ensure that Shavar Jeffries becomes our next mayor. The people of this great city can't afford to turn over the keys to a career politician like Ras Baraka who has promoted himself, while letting crime spiral out of control and leaving our communities behind. Shavar Jeffries is the real deal, not a politician only looking out for himself. He's a lifelong Newarker, a civil rights lawyer, and someone who has never backed down from a tough fight. As mayor, he will unite all of our communities and put the people Newark first," said Dr. Chris T. Pernell, President of Newark First.