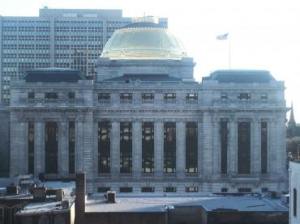 Newark First this afternoon released a polling memo in the Newark mayor's race of a poll the independent expenditure PAC says shows a trend of former Assistant attorney General Shavar Jeffries gaining on South Ward Councilman Ras Baraka.
Viewed on the ground as the favorite under a barrage of independent expenditure spending, Baraka still leads his rival by 12 points, according to the polling memo.
The new poll dated 4/28 shows Baraka leading Jeffries 42-30%.
The IE group likes progress made by Jeffries, who has upticked considerably since a January poll showed Baraka at 52% and Jeffries 18%, according to Newark First.
The polling memo shows Jeffries leading among seniors, Latinos and undecided voters and in the North, Central and East Wards.
Global Strategy Group conducted the poll for Newark First.
GSG Founding Partner Jeffrey Plaut said Jeffries has made large gains each week and continues to consolidate his support and grow in popularity.
"With momentum at his back, Shavar Jeffries is rapidly closing in on his opponent in the mayor's race, and he has a clear path to victory," said Plaut. "Jeffries is now ahead among many key voting groups across the city of Newark. While the race continues to break in Jeffries direction, even with the current margin, he would need to convert only 2,400 votes from his opponent in order to win. That's a strong position to be in during the final weeks of this campaign."
Plautt says the race is now within the margin of error among voters who are familiar with Jeffries (38% Jeffries/42% Baraka) – the first time Jeffries has pulled even on that measure in our 2014 Mayoral polling. And among voters who solidly support a candidate and say they are unlikely to change their mind, the gap between the candidates is just 10 points (25% Jeffries/35% Baraka) – an 8-point improvement over the last several weeks.
Jeffries is now viewed favorably by 50% of likely voters – another first in the group's mayoral polling, Plautt said – while just 19% hold an unfavorable opinion of him." And voters who have seen, read, or heard about Jeffries recently hold an overwhelmingly positive view of him, with 60% holding a favorable opinion of him versus just 21% with an unfavorable opinion – a sign that Jeffries has even more room to grow as voters continue to pay close attention to the race."
That's just two weeks in a contest Baraka has appeared to dominate in terms of local messaging and – to this point – organization.

But, "The bottom line is this, Plautt said, "Shavar Jeffries has made significant progress in the race for Mayor, closing the gap in support against Councilman Baraka and improving his standing with voters significantly in the last months. The race is tied among voters who are familiar with Jeffries, those who have learned more about Jeffries recently are more positive than negative about him by a margin of almost 3-to-1, and Jeffries would only need to convert about 2,400 votes to win. In the final weeks of the campaign, Jeffries has the
potential to continue building on this already-strong profile and growing support."
Baraka's allies slammed the polling memo in a statement.
"Touting an in-house poll that has your candidate 12 points behind with two weeks to go until Election Day isn't a sign of momentum. It's a sign of desperation, said Rob Duffey, spokesman for the New Jersey Working Families Alliance, a New Jersey affiliate of the Working Families Organization. "Wall Street spent more than $1 million on Shavar Jeffries and by their own rosy estimation he hasn't even won over 30 percent of Newark voters. Wall Street is getting a terrible return on their investment in Jeffries because Newark voters know he's with Chris Christie, Cami Anderson, and the hedge fund managers who want to replace public schools with profit factories."