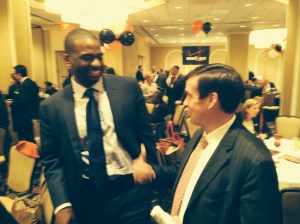 NEWARK – Newark mayoral candidate Shavar Jeffries worked the crowd at the breakfast before the 77th annual New Jersey Chamber of Commerce Walk to Washington train trip at the Newark Hilton on Tuesday morning. The Hilton stands a short distance away from Seton Hall University's law school, where Jeffries has worked as an associate professor. In just three weeks, Newark's voters will be his judge and jury in the May 13 municipal election.
In an interview with PolitickerNJ.com, Jeffries presented a path to victory on Election Day that seemed to indicate a strategy that relies significantly on two of Newark's five wards.
"Our message is resonating throughout the city. We're going to win by very large margins in the North and in the East in particular. We have clear organizational strength there," Jeffries said. "We're going to preserve our margins in other parts of the city. We're in great shape. We've just got to keep doing the work."
In a room packed with politicians, labor leaders and corporate players schmoozing to the hilt, Jeffries underscored why he feels that his brand of leadership in better for Newark than that of his rival, South Ward Councilman Ras Baraka.
"I'm comfortable everywhere, and this is what you need in a mayor," Jeffries said. "I'm comfortable on South 17th Street. I'm comfortable on Chancellor Avenue. I'm comfortable on Bloomfield Avenue. I'm comfortable on Ferry Street. I'm comfortable on [New York City's] Wall Street. I'm comfortable in Washington, D.C.," said Jeffries, who did not get on the train to the nation's capital so he could continue campaigning in New Jersey's largest city. "I have experience everywhere. If you're a mayor who is only comfortable in the street, and you want to demonize Wall Street and investment, you can't be effective as a mayor."