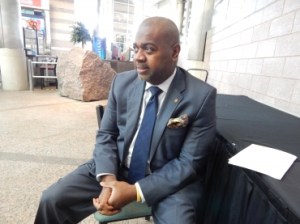 NEWARK – Three members of the Essex County Board of Chosen Freeholders announced their endorsement of Newark mayoral candidate Ras Baraka on Monday.
Freeholders-At-Large Rufus Johnson and Gerald Owens, as well as District 3 Freeholder Carol Clark, based their support on issues that have surfaced during the contentious struggle between Baraka, Newark's South Ward councilman, and his mayoral campaign rival, former Assistant Attorney General Shavar Jeffries.
In a written statement issued by the Baraka campaign, the endorsing freeholders collectively cited Baraka's "ability to end the culture of gang violence in Newark and his willingness to fight Governor Christie's attempt to shutdown neighborhood schools."
The latter point is a jab at the One Newark school reorganization plan, announced by Newark School Superintendent Cami Anderson in December. The proposed plan includes the expansion of charter schools, which already serve approximately 20 percent of the city's students, as well as the closure or consolidation of certain public schools.
Newark's schools were placed under state control in 1995. Anderson was appointed by Gov. Chris Christie to head the Newark school district, New Jersey's largest, in 2011.
The timing of the introduction of the One Newark plan, which came just at the start of the 2014 Newark mayoral campaign season, has ignited Newark's already volatile politics.
PolitickerNJ.com reported in March that sources have indicated that Clark, a veteran freeholder incumbent from East Orange whose district includes parts of Newark, was taken off the Essex Democratic party line in June by new Party Chairman Leroy Jones. Clark will be replaced by Britnee Timberlake of East Orange.
Owens, who temporarily held the seat previously occupied by U.S. Rep. Donald Payne, Jr. (D-10), is also gone, soon to be retired.
Johnson, of Newark, and a close ally of state Senator Ronald L. Rice (D-28), was not thrown off the party line. Rice is a vocal supporter of Baraka and is an equally vocal critic of Essex County Executive Joe DiVincenzo.
The Newark mayoral election is on May 13, just 15 days away.