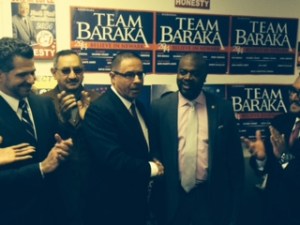 NEWARK – In the face of tightening poll numbers in the race to run the state's largest city, Newark mayoral candidate Ras Baraka was endorsed by prominent Latino political and business leaders on Wednesday. With just 13 days left before the May 13 municipal election, Baraka hoped to solidify support from Latinos, a critical and growing demographic group of Newark voters.
"I went and talked to these gentlemen myself, and they were very clear about their intention [to support] small business development and Latino participation. That's what we're trying to do in the city of Newark," Baraka told PolitickerNJ.com as he stood with a group of Latino backers, including Carlos Medina, chairman of the Statewide Hispanic Chamber of Commerce of New Jersey, and Hudson County Freeholder Junior Maldonado.
The assembly of Latino supporters for Baraka took place the day after Newark First, an independent expenditure group that supports Baraka's mayoral race rival Shavar Jeffries, released a polling memo that shows Baraka with a 42 to 30 percent lead over Jeffries. The 12-point gap is considerably less than the 51 to 28 percent lead held by Baraka over Jeffries in a poll paid for by the Working Families Organization, the pro-Baraka independent expenditure group., which was released earlier this month.
The latest poll, conducted by Global Strategy Group for Newark First, shows Jeffries leading among seniors, Latinos and undecided voters and in the North, Central and East Wards.
Jeffries has indicated in previous interviews with PolitickerNJ.com that he expects to win by large margins in the North and East Wards, where the majority of Newark's Latinos live. Jeffries has also said that he enjoys an edge in organizational strength in those wards.
In that context, the presence of Maldonado at Baraka's Wednesday endorsement event is notable. Maldonado is a strong Hudson County ally of Jersey City Mayor Steve Fulop. Fulop's endorsement of Baraka in February helped to turn the Newark mayoral race into what many political observers view as a proxy gubernatorial contest.
PolitickerNJ.com previously reported that several Democratic sources indicated that Jeffries conversed with Essex County Executive Joe DiVincenzo and with allies of George Norcross III regarding his political future. These sit-downs suggest an alliance between North and South Jersey to ensure Jeffries' victory in the Newark mayoral election.
Norcross is also a close ally of State Senate President Steve Sweeney (D-3), the potential South Jersey blocker of the gubernatorial ambitions of North Jersey's Fulop.
On a rainy day in the North Ward, Maldonado and Baraka spoke to the idea of key alliances strengthening as the Newark mayoral campaign gets close to decision day.
"The black and Latino communities coming together can be a force in any community, in any state in the country," Maldonado said. "There is strength in numbers."
"The relationship I'm going to have with the mayor of Jersey City is going to grow, just like the relationship were trying to establish with other mayors of the cities in this region," Baraka said. "I'm here because we need everything single vote in this city to win. After a million dollars of negative campaigning that these folks have done, their points only went up [a few] points. If that is an estimation of what all of that money can do, then I don't think that we have much to worry about. We just need to focus on what we're doing. What we're doing today is showing the city of Newark what the future looks like."