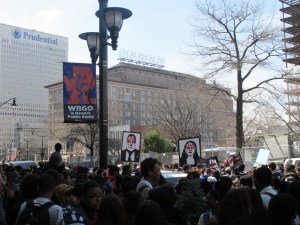 NEWARK – More than 500 Newark public school students converged on the city's downtown today, demanding that their school system be returned from state control to local control.
Holding signs saying "Save Our Schools" and "We Demand Full Funding," the students assembled from high schools around Newark as part of a self-declared "walkout." They declared that they were determined to protect their schools from what they perceive to be threats from Trenton, as state budget hearings on education funding continue, and from Newark, as the controversial One Newark plan is being debated.
"I'm sick and afraid about what's going to happen to our school," Nydiqua Johnson, 16, a junior at West Side High School in Newark. "They're closing my school, and I really don't appreciate it. And most of our teachers are getting fired."
Newark School Superintendent Cami Anderson has become the central polarizing figure in the debate over the future of Newark's schools. She was appointed to head the state-run Newark school district, New Jersey's largest, by Gov. Chris Christie in 2011. The governor publicly stated in September 2013 that he plans to reappoint her, and that he did not care about community criticism.
Newark's schools were placed under state control in 1994.
The One Newark school reorganization plan, announced by Anderson in December, includes the expansion of charter schools, which already serve approximately 20 percent of the city's students, as well as the closure or consolidation of certain public schools.
Anderson has also proposed to lay off approximately 1,000 Newark public school teachers over the next few years, which she wants tied to teacher effectiveness as well as seniority.
The students protested in front of City Hall, then moved first to the front of Prudential headquarters then to 60 Park Place in downtown Newark, where TEAM Charter Schools has offices.
"We're protesting Cami Anderson's One Newark plan, and the fact that we haven't had local control of our schools for 20 years," said Thais Marques, 19, a Newark public high school graduate, current college student and a community organizer for NJ Communities United. "There are budget cuts going on in Trenton right now to cut our public schools that will make sure our schools are not fully funded. But there is still money coming in for KIPP [Public Charter Schools] and Teach for America from places like Prudential. It doesn't make sense that we can't fund our public schools, yet there is plenty of money for charters schools that profit off of students."
"We believe civic engagement is a fundamental part of our students' education and support their desire to have a robust dialogue with district leaders about their education," said Matthew Frankel, executive director of communications for Newark Public Schools, in a prepared statement. "The superintendent has extended an invitation to the student organizers to discuss how we can provide meaningful opportunities for them and their peers to have their voices heard. This said, we firmly believe such civic actions should take place outside of the school day as not to interfere with critical learning time."
Ryan Hill, the founder and executive director of TEAM Schools, sympathized with the student protest, yet questioned its timing.
"There is a degree to which we agree with the overall sentiments of the students. Many of them have gotten the short end of the stick academically over the years," said Hill, who founded TEAM Schools in 2002. "In a charter school like ours, about 85 percent of the funding we get from the state goes into the classroom. In a district school, it's less than 50 percent, and that's atrocious. The district has not served these kids as well as they should. But we just don't think they're right about us. We don't get more money than public schools. It's about how it's used.
"It's not a coincidence that people are falsely making accusations against us profiteering during a mayoral election," Hill added, noting the protest took place less than six weeks before the Newark mayoral election in May. "This is election season theatrics. Our kids and our families know exactly who we are. They know that we're not profiting off of the schools, and neither is anybody else."
The two rivals in the Newark mayoral election both have notable education experience.
South Ward Councilman Ras Baraka is currently on leave from his job as principal of Newark's Central High School. He has been endorsed by the Newark Teachers Union and other education-oriented labor unions. Baraka has also been endorsed by NJ Communities United, who helped organize the student protest.
Former Assistant Attorney General Shavar Jeffries served as president of both the Newark school advisory board and the board of TEAM Academy Charter School in Newark. He has also worked as an associate professor of law at Seton Hall Law School.
"As a non-profit organization, we cannot get involved in electoral politics," Hill said. "We have employees who on their own private time have worked with both campaigns, completely unrelated to what we're doing. We don't make any endorsements, and we're trying to stay as far out of politics as we can."