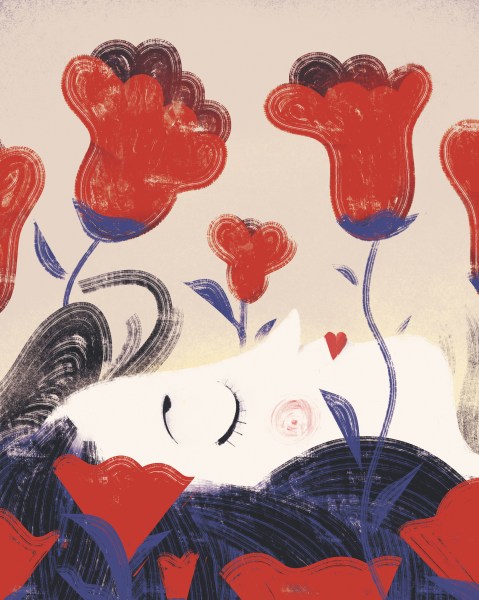 With my 38th birthday looming, I had been seriously considering a "real" solution—Botox—for the fine lines crisscrossing my forehead and clustering around the corners of my eyes. My considerations even stretched as far as consulting with a woman in the West Village, Yelena Yeretsky, who does an astrological chart for clients before she puts the needle in, to ascertain how they really want their end result to look: slightly serene or the fully blank stare. I confess, I am a bit of a new age junkie—or rather, "now age," as I prefer to call it.  The thought of chemicals, needles and clinics jars against all the principles I am trying desperately to stick to. Turns out I am not alone. Through my website, The Numinous; strap line: Material Girl meets Mystical World, I am discovering increasing numbers of switched-on female New Yorkers turning against the usually-obvious and sometimes embarrassing-looking results of too many injectables. These women are into the idea that it's possible to believe yourself beautifully ageless with the help of new products and treatments that might have seemed loopy or ineffective a couple of years back but are slowly becoming aspirational in the mainstream.
Maureen Dodd is an Ayurvedic and therapeutic bodyworker and self-described "Alchemical artist," who offers what she calls an "energetic face-lift" at up-market holistic health clinic The Ash Center on the Upper East Side. I've been visiting Ms. Dodd, whose clients include Goldie Hawn, Christie Brinkley and Kim Basinger, for a few months now. Treatments consist of being hooked up to a special machine while she pulses a micro-current of "pure energy" into my face using a smooth metal probe.
Maureen explains the science bit convincingly. "When I put the micro-current into the muscle, it responds by filling with blood and relaxing; it plumps up and the line goes away," she told me during one of my treatments. And it's true that I look like I've had 12 hours' sleep whenever I step off her table. The effect doesn't last, but here's where the other piece comes in. The last time I saw Ms. Dodd, she literally talked me down from the Botox ledge (I had an appointment booked for the next day) with her words of spiritual wisdom. She told me she was holding the container of Do You Realize How Beautiful You Are and all I had to do was take it.
"There's a way of seeing ourselves where we don't even notice the little lines," she added. "We have to practice radical self-love. Could you ever see the person you're most in love with in the world as anything less than absolutely beautiful? Botox is a poisonous little Band-Aid." 
---

Contacts and Addresses


Thenuminous.net

The Ash Center
Ashcenter.com
800A Fifth Avenue
New York City 10065

Seedtoblossom.com 

---
Ms. Dodd, a 49-year-old who looks 35, swears by her medicinal oils. "I use helichrysum, frankincense and spruce, which literally takes dark spots off the skin. If you think about it, black spruce trees live hundreds of years and never age." Rose oil has the highest vibration, natural medicine enthusiast-speak for potency. "It takes away rosacea, the combination of broken capillaries and redness." And actually, since I started using an organic rose water on my face in the place of astringent (as advised by Rebecca Casciano, a makeup artist who only uses all-natural products), the pores on my nose, forehead and chin have shrunk to half the size.
Rose Robin Bennet, a self-professed "green witch" from New Jersey hosts workshops on herbal infusions for the skin and spirit. Ms. Bennet explained, "Both the flowers and the berries are rich in skin healing compounds that increase the circulation in our skin and also smooth out wrinkles."
Elsewhere, the founders of CAP Beauty, a high-end natural beauty store and spa opening in the West Village this spring, plan to specialize in Facial Rejuvenation Acupuncture. The spa has just signed on a therapist trained by Virginia Doran of Luminous Beauty,  the authority in the field. Ms. Doran has pioneered the art of facial rejuvenation through acupuncture needles inserted at the correct points in contours throughout the body that relate specifically to the face. Acupuncture requires a leap of faith for first-time users but Ms. Doran's testimonials speak volumes for the process. 
As for my personal quest to make peace with my subtly aging face, it has also led me to Kerri Aab of Seed To Blossom, who specializes in mixing custom flower essence remedies. When concerns about my appearance came up during our initial (90-minute) consultation, she added crab apple into my custom blend, a tincture containing seven of Dr. Bach's 38 original flower distillations. "Crab apple is known as a cleansing remedy for both mind and body. It works particularly well for people who struggle with negative self-image and issues with obsessive neatness or physical perfection," she explained, going on to add that it's the flower she prescribes the most often for her female clients.
If anybody can talk with authority about embracing a more holistic or spiritual approach to beauty—and it working—it's Jennifer Kass, a former editor at beauty bible Allure who as since experienced a total lifestyle shift and rebranded herself as a "holistic happiness coach." In her old life, she told me, "I lived in fear—of the sun, of my dry skin aging me decades early or wrinkles. If there was anything I would make a massive investment in, in was anti-aging face cream. A jar of Crème de la Mer didn't stand a minute in the beauty closet."
Since then, Ms. Kass added, "upgrading my diet to include dark, leafy greens in every meal, lots of water and healthy fats like avocado and coconut oil, spending at least an hour a day out in the sun with no sunscreen and doing yoga daily, has been the biggest anti-aging tool I've personally ever experienced."
I was shocked to discover that Ms. Kass, who I guessed to be late 20s in age, is almost exactly the same age as me. Essentially, she confessed, "I'm prettier when I'm happier," she said, echoing that other alluring hippie-chick Joni Mitchell, who once claimed, "Happiness is the best face-lift!"
Over the past six months, I have cleaned up my diet, adding a daily probiotic and cutting out gluten and dairy. My skin isn't blemish-free but it is glowing slightly. The lines persist but the accompanying dullness, tired eye bags and dry patches are staying away. What's that saying about having to suffer to be beautiful? My new anti-aging regime is painstaking but not, thankfully, painful. The last time I saw my shaman he really cheered me up on the beauty front.  He told me I have the "immortality gene"—that is "if you can release the idea of suffering, you'll basically never get old." This is a wonderful idea to ruminate upon but not easy to grasp when your a.m. alarm fails on the day of an important meeting. There are  still beauty emergencies when the material girl in me wants to reach for the fastest fix but they are  happening less and less.