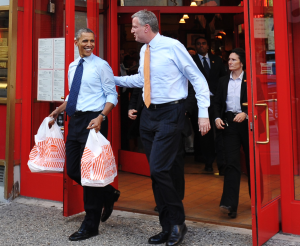 Gov. Andrew Cuomo and Mayor Bill de Blasio just got an official boost from above.
President Barack Obama's press secretary heralded both New York pols in a new statement released this afternoon, praising their recent work expanding universal pre-K in the state budget passed this week.
"President Obama applauds Governor Cuomo and Mayor DeBlasio for the remarkable work accomplished this week in New York, where lawmakers delivered a major victory on early childhood education for middle class families and those working to get into the middle class," read the statement. (It should be noted the mayor spells his name "de Blasio.")
"New York's commitment to invest $1.5 billion over 5 years to begin to phase in publicly-funded preschool across the state will provide opportunity for thousands of children, including 53,000 children who will be able to attend preschool in New York City this fall," it continued.
The spokesman for Mr. Obama, who called for the expansion of pre-K in his State of the Union speech earlier this year, also reiterated hopes that the federal government would act on the issue soon.
"President Obama will continue to call on Congress to enact his plan to partner with states and cities to provide high-quality preschool for every child, and encourage states and cities to take action so children have the chance to enter kindergarten ready for success," he said.
Mr. de Blasio's press office quickly forwarded the White House's accolades to its list of local reporters.