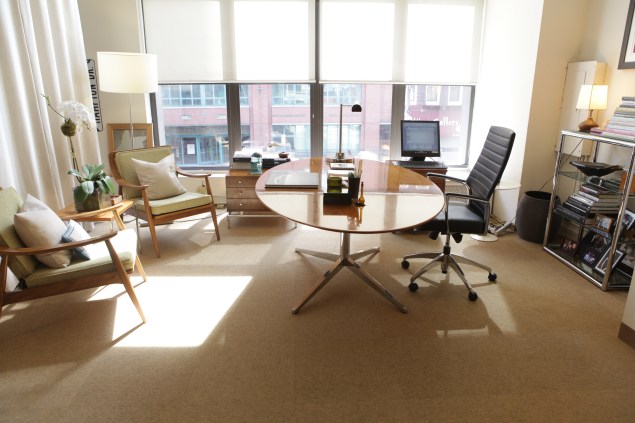 Somehow, the image of a female creative executive's office has crept into our collective imagination. We can envision this woman hosting meetings from her treadmill in a gilt-framed suite on the 25th floor. What is less easy to imagine but fascinating to discover, is the office of her modern male counterpart. 
In his office on West 27th Street at the Paris Review, editor Lorin Stein works at a tasteful gun-metal gray desk buried in manuscripts and current issues of the literary journal. Designed by Mr. Stein's brother-in-law Geoffrey O'Sullivan, the room has big wooden beams, old-fashioned globe lights and bookshelves made from iron gas pipes. There's a worn-in leather sofa, an Alex Katz portrait and tchotchkes galore, including a silver matchbox with a sailboat on it that a contributor gave him and a pair of standing ashtrays made by his great-grandfather, the ironsmith Samuel Yellin. 
In short, it's a thoughtful, personal and curated workspace: bright day to the dark night of the drab wallpaper, laminate desks and La-Z-Boy chairs à la Michael Scott that ruled men's offices in the late 20th century. 
"Men are starting to think, 'Look, I'm spending so much of my time here, why shouldn't it be great?'" commented decorator Jason Oliver Nixon of interiors company Madcap Cottage. The stigma of the metrosexual has disappeared, design is now aspirational, and men are realizing that how they decorate their surroundings matters as much as their tie color. 
"Design communicates your values—who you value, what you value and why," General Assembly CEO Jake Schwartz told the Observer. He and co-founder Brad Hargreaves sit side-by-side in their open-plan office on East 21st Street and keep a chessboard between their desks. It not only reveals their strategic thinking and problem-solving ability, but it also allows them to stay connected. "We average one game every two weeks," he admitted. He also believes investing in high-backed gray designer couches and eclectic lighting helped the startup, which hosts classes in business, design and technology, create the on-brand image they sought when they first launched in the Flatiron District. 
The aesthetic revival is new to New York City's male executives. Alexander Jutkowitz, managing partner at digital marketing company Group SJR, uses his Flatiron District office as a gallery space for contemporary art with "attitude and spunk" that he hopes mirrors  his own approach to marketing. He even claims that staring at a provocative video work by artist Brian Bress, hung on the wall facing his desk, sparked the idea for the agency's latest trend report, Visual Literacy. "[Contemporary art] forces the mind to think abstractly and critically at once—which serves as a great creative conduit for interesting marketing ideas," he told the Observer. He also revealed his most cherished knickknack, a framed photograph of his newborn daughter. "She's just a small speck on a daybed, with whimsical framed portraits of animals by one of my favorite artists, Hunt Slonem, hanging above her," he enthused.
Public relations guru Paul Wilmot was at the forefront of the trend when he opened his agency on Avenue of the Americas in 1997. Mr. Wilmot modeled the communications office after the open plan of a newsroom to foster the free flow of, well, communication (former mayor Michael Bloomberg would later popularize that layout). He filled the loft with modern Knoll furniture and hung black-and-white photographs by Cecil Beaton and Imogen Cunningham—including a curious Nick Brandt portrait of a calcified bat over his own desk—showcasing a panache essential to a firm representing brands like Kate Spade and Elie Saab.  
In a wider sense, a unique office is also a powerful recruiting tool, according to Homepolish co-founder and CEO Noa Santos, whose decorating business has designed offices for clients including Gilt, SONGS Music Publishing founder Matt Pincus, Codeacademy and shopping app Trendabl.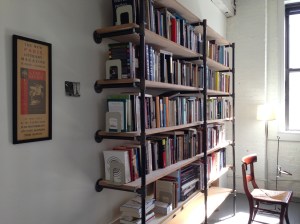 "The competition for talent has become so intense in New York and San Francisco," Mr. Santos said of the start-up world, which has been notoriously male-dominated. "Having an office that has an amazing roof deck or an incredible snack wall really conveys not only the cool things you get if you start to work here, but also the way the company thinks: they think beyond the bottom line."  
That thinking inevitably leads to the era before offices became humdrum closets. From Jay Gatsby's golden '20s through Don Draper's mod '60s, the stylish flair of the past is making a comeback. Mr. Santos says many of his male clients now ask for vintage and industrial pieces like tufted sofas or mid-century chairs. Male executives enjoy the comfort of an easy chair and the relaxed vibe of retro pieces, making a convivial atmosphere for meetings more achievable. There is also a touch of home that accompanies the nostalgia of retro pieces. 
Mr. Stein's office is a clear example of a modern office with a homey vibe. Though he sometimes works remotely, he has spent weekends vacillating between his desk and the office's pool table. There have been nights he almost didn't leave. When asked what he looks for in a workspace, he replied, "Calm, quiet and the comforts of home."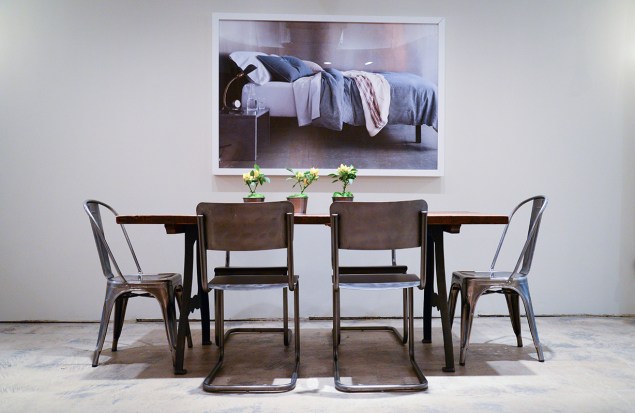 Some guys might still be wondering if office design really matters. They may cite the example of Henry David Thoreau, who threw out a paperweight because he didn't want to dust it. What happened to mind over matter? Yet for better or worse, as the 21st century rolls on, how an office looks will play an increasing part in defining its occupant. Maybe it's time for guys who have never bothered about their workspace to swap out the 1990s fittings and carpet tiles and take another look at that gap behind the filing cabinet where the wiring sticks. Could be time for a design re-think.