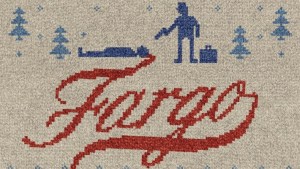 The Golden Age of Television has followed film to its inevitable destiny: we're now in the era of the remake. How else do you explain the existence of the small-screen adaptations of Rosemary's Baby, The Sound of Music, Hannibal and in the most head-scratching case of brand endorsement, the new FX miniseries Fargo? Growing up, a small screen version of such a famous film would have been unthinkable outside the realm of Saturday morning television (Ghostbusters and Beetlejuice), yet the world of the Coen Brothers' film has now been expanded to its deluxe player edition that no one asked for. Well, no one outside of CBS, which in 2003 commissioned a pilot directed by Kathy Bates and starring Edie Falco as Frances McDormand's character. The series was never picked up. (But you can watch it here.)
But in this new millennium all bets are off, as was evident last year when FX approached writer Noah Hawley to create what he describes as "a Coen Brothers movie without the Coen Brothers." Which is to say, a show that has the same pacing and mood of the 1996 black comedy, but none of the characters and virtually no input from the iconoclasts themselves.
"I didn't want it to be imitative," said Mr. Hawley at the Four Seasons. Sitting to our right was one of the show's stars, the British actor Martin Freeman, who struggles valiantly throughout the series to keep his Minnesota accent sounding as similar to William H. Macy's as possible.
[youtube http://www.youtube.com/watch?v=gKs8DzjPDMU&w=560&h=315]
"Not imitative?" we asked. "But isn't the job to imitate the feel of the film?"
"Well yeah, but not copy," said Mr. Hawley. "It's not, well, here's the Coen Brothers Light, or the Coen Brothers redux. It's to tell a story that feels like their work, that feels like an original movie that they would make."
"It's kind of a fascinating exercise for a writer," he said, sipping his water.
Some elements of the film have been kept, most noticeably: a car wreck, snowy roads of Minnesota/North Dakota, quirkiness, accents, and the sensibility of a small town satire punctuated by moments of blood-spurting violence and Americana whimsy. There's also the cat-and-mouse game between a strong female police officer and a passive-aggressive pushover (Freeman) whose brush with a hired killer (Billy Bob Thorton, echoing another Coen character, Anton Chigurh in No Country for Old Men) sends him down a path of misery.
But other than that, there's really nothing that the two works have in common.
"The trick is to get that dryness, on both the comedic and dramatic front," said Mr. Hawley, whose previous work included his novel The Good Father and ABC's The Unusuals. "In a Coen Brothers movie there's no melodrama, nothing is ever done to make you feel a feeling. There's no sad piano music."
In addition to shooting the mini-series in the same style as its predecessor (25 and 35 millimeter cameras instead of the industry standard of 70 millimeters), Mr. Hawley was also given a significant amount of leeway with his work. The show's pilot runs 90 minutes long. On FX's reaction to such an experimental form? Mr. Hawley explained, "They just added another commercial break."
If Fargo feels familiar, it might not just be because you've seen the film. Mr. Freeman's character, Lester Nygaard, seems as much the product of the Walter White suburban male fantasy as he is an approximation of Mr. Macy's sniveling car salesman/wife ransomer, Jerry Lundegaard. "Everyone of my era, we live in the shadow of Vince Gilligan," said Mr. Hawley. As if anticipating the inevitable follow-up, he quickly added, "I just think Tony Soprano was more esoteric."
The most noticeable callback you'll see is the opening of each episode, which like the film, presents what you're about to watch as a true story. "At the request of the survivors, the names have been changed," the title reads. "Out of respect for the dead, the rest has been told exactly as it occurred." This was untrue in the case of Fargo the film and it's still untrue in Fargo the show, but the framing device of the true crime genre, as Mr. Hawley explained, allows for a more non-linear form of storytelling.
He mentioned the Mike Yanagita character from the original Fargo, who randomly calls Marge, the film's lead detective and an old high school acquaintance of Mike's played by Ms. McDormand. He tells her a sob story about marrying a fellow classmate out of high school, marrying her, and then watching her die of leukemia. Marge soon discovers that the whole story is made up. It's a surprisingly effective subplot, even if it has nothing to do with the film's central murder mystery.
Mr. Hawley said, "When I went to FX, I said 'What's our Mike Yanagita?' The thing that you're like 'What is this?' Except because it's a true story, it's the stranger than fiction details that help with what I hope is the very organic goal of creating a story that you can't predict. Not in that wacky stuff happens that has no place in a story, but in that it's defying expectations and traditional structure. We wanted to create something that you don't see coming."
They may have well succeed: there were parts of Fargo that were some of the most genuinely surprising and unsettling moments on TV in recent memory. It's not the Coen Brothers, but then again, what is?