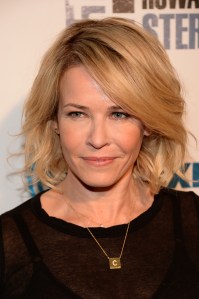 Are you there, God? It's me, someone who periodically watches late night television. I know that you've been busy moving around a bunch of pieces in Your Ultimate Plan for Insomniac Entertainment recently, and I respect that. It's just like in Noah, when you decided to destroy mankind with a giant flood and Russell Crowe closeups, instead this time what you are wiping out is not animals and Emma Watson, but my ability to keep the TV on after 11.
Finding out we're losing Letterman was a bad enough blow, but to hear that his job on Late Show might be up for grabs by Chelsea Handler? Say it ain't so!

According The Wrap, Ms. Handler, who announced last month that she'd be leaving her own show when her E! contract expires, is now taking some cbs calls … and is eyeing the top late night spot.
She will be meeting with CBS Corp.'s chairman and CEO Les Moonves in the next few weeks to continue the discussions of joining CBS's late-night lineup, the individual said. But, Letterman's retirement announcement on Thursday has changed the landscape for her. Handler now has her eye on Letterman's "Late Show" spot instead. Either timeslot would make her the first woman to host a late-night broadcast show since Cynthia Garrett hosted NBC's "Later" from 2000-2001.
Please. Please no. I know Chelsea Handler is supposed to be good for feminism and women on late night TV. (Though her writing staff for Chelsea Lately is mostly dudes.) I know that she's launched the careers of many successful female comics, like Whitney Cummings and Jen Kirkman. I know that her whole shtick is to be unlikable, because she's not doing this to make friends. I know that Alessandra Stanley meant it as a compliment when she said of her, "She is the only unfriendly face of late-night television."
I know that we need a woman on late night. But please, let it be anyone else. See, the problem with Chelsea Handler isn't that she's a woman, it's that she's mean.
We're already living in a time where flippant cruelty and bullying are the norms to fight against. Look at the way Ms. Handler is "ironically racist" on Twitter, and then look at how a similar situation was handed by Stephen Colbert recently. (Mr. Colbert's name is also being bandied about for a possible Late Show host.) Ms. Handler was using race as the punchline; Mr. Colbert was making fun of the racists. Ms. Handler dealt with the issue by screaming at Piers Morgan; Mr. Colbert remained unflappable and did a segment about it. And that's just the tip of the iceberg.
I don't want to use any coded words here, but Ms. Handler is cold, sarcastic and hostile. (For the record, men can be all those things as well, they just don't generally make good late night hosts.) Mr. Letterman, who, like Ms. Handler, has a grouchy side, can be engaging with guests. As much as I respect Chelsea Handler's work in some areas–particularly the gay community–I've seen nothing of her that convinces me she'd be good at the sort of mainstream humor CBS will need to keep up the ratings.
I'm not saying that all late night hosts should be likable or fun. But why wouldn't they be?