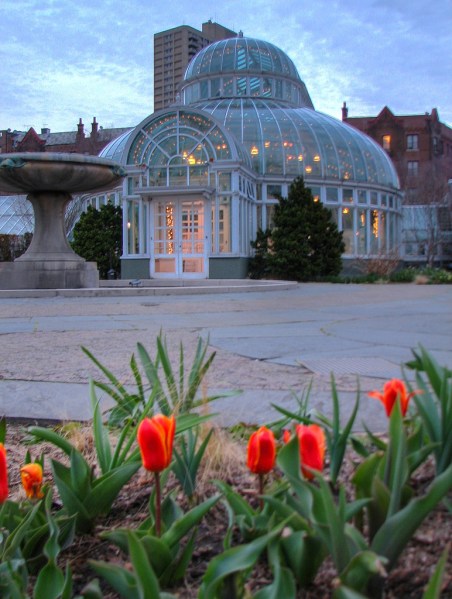 Rents for Cobble Hill's quaint Court Street retail district have more than tripled in recent years, according to Crain's. With rents topping out at more than $180 per square foot, the shopping district is now comparable with Manhattan. To wit, Brooklyn Paper reports  that 16-year-old Cobble Hill establishment Last Exit is closing after the owners, who have long had a "rocky relationship" with the owner, failed to come to a new lease agreement. "You didn't have to dress up, and it didn't have those fancy, frou-frou cocktails," lamented one patron of the longtime watering hole.
Meanwhile, Curbed chronicles the transformation of Dumbo from industrial waterfront to artists' haven to the place where Anne Hathaway buys and sells fancy condos. And the Post has discovered that Crown Heights is a pretty hot neighborhood these days. Or rather, in an assessment that seems straight out of 2004, "is heating up in particular on the townhouse side of the market," where, "if you want a really classic Brooklyn brownstone, it's one of the last affordable neighborhoods where you can get it." And since when does affordable = between $1 million and $2 million?
Speaking of the death of all that is good: The New York Times, in reporting on the $47.5 million listing of the once and soon-to-be-former Foundling's home in the West Village, calls it a "mansion in the rough." Which is apparently how the global elite now see every civic, institutional and public space in the city. "Whoever buys the building is buying a piece of history," Dolly Lenz told the paper. Yes, a piece of history: proof that New York was once a place where people of different classes lived, worked and interacted. Quaint!
Need some good(ish) news? Crain's reports that Brooklyn Health Partners $250 million proposal to take over LICH, which would involve a full-service hospital, scores the highest in bidding process.
Even Cartier's crash pad is super-fancy! The French jeweler is moving to the GM building for two years while their store gets renovated, The New York Times reports. But they might just keep the second spot as an outpost.
Also, when it comes to renovations, sellers who undertake huge, top-to-bottom overhauls of apartments that they just renovated a few years before (a new trend, apparently, that was reported by The Wall Street Journal) are just plain stupid. High-end buyers like to come in and give the property total re-dos anyway, so there's no point to renovating an already exquisite house if you don't even intend to enjoy it yourself?
Another hot trend brought to you by The Journal? Some people love old houses so much they'll hardly agree to modern conveniences being added during restoration. Other people just love their current houses. Like Willem Defoe, who so enjoys his Jane Street co-op so much that he just bought another unit there, a penthouse, for $3.9 million, according to The Real Deal.