On a frigid morning this past winter, the art historian, critic and curator Phyllis Tuchman was guiding her blue Mercedes sedan through the desolate parking lot of a shopping plaza in Bayonne, N.J., past a Super Stop & Shop, a Starbucks and a Houlihan's, toward an inlet of the Hudson River.
"God, I can't believe I'm doing this," she said, as she nonchalantly ignored the markings for parking spots in an attempt to avoid birds that were lounging in front of a tanning salon. "I'm very New Jersey," she said. "It's embarrassing."
We had left Manhattan about half an hour earlier, cruising through the Holland Tunnel to tour the places where land artist Robert Smithson made some of his most famous pieces in the 1960s. Utah usually comes to mind first with Smithson. His best-known work, and inarguably one of the most important artworks of the 20th century, is Spiral Jetty (1970), a 1,500-foot-long swirl of more than 6,000 tons of rock and dirt that juts into the Great Salt Lake. But Smithson was a Jersey kid, born, like Ms. Tuchman, in Passaic. He grew up in nearby towns; William Carlos Williams was his pediatrician.
Like a lot of suburban kids, he ended up in New York City after high school (he never went to college), but he frequently set out for the Garden State in the second half of the '60s, at a turning point in his career, aiming to make art outside of the art world. "The major issue now in art is what are the boundaries," he said at the time. "For too long artists have taken the canvas and stretchers as given, the limits." He and a handful of other artists found their ideal laboratory and mine across the Hudson River. (An exhibition last year at the Princeton University Art Museum, "New Jersey as Non-Site," took on that topic.)
Ms. Tuchman, who knew Smithson and his wife, the artist Nancy Holt, back then, has collected much of his pivotal work from the period in "Robert Smithson's New Jersey," an exhibition at the Montclair Art Museum that she organized with the museum's chief curator, Gail Stavitsky. It runs through June 22, and overflows with fresh research on the artist, whose career was cut short in 1973 when a plane he had chartered to fly over one of his works in progress in Amarillo, Texas, crashed. Ms. Tuchman had brought the Observer out to New Jersey to tour Smithson's sites.
When the birds in the parking lot cleared away, Ms. Tuchman led the way to the water's edge.
"Look at that view," she said. "I mean, that's to die." A tranche of new-looking townhouses stood across the water, and the World Trade Center loomed behind them, about 6 miles away. To one side, cars and trucks rumbled along Route 440, to the other was the ritzy Bayonne Golf Club, 18 holes of wild Scottish links. "Whenever you are at a Smithson site, there is a great view," she said. "It's absolutely astonishing."
About 46 years ago, Smithson had been in the same spot with Holt, picking up rocks—actually torn up concrete and asphalt roads—and carting them back to Manhattan in a car. (Holt did the driving; Smithson didn't have a license.) He'd stack the materials in a metal container to create one of his "non-site" sculptures, which paired earth, rocks or sand with photographs and slices of maps showing where those materials came from. His idea was that people could see his works in a gallery and then travel out to the sites where he had found their ingredients. Ms. Tuchman is one of the few who has actually done that. "I hadn't been to any of these places, and it is sort of how I fell in love with Smithson," she said. "Because it's a mini travelogue of North Jersey."
The place where we were standing had been marked "Line of Wreckage" on the map, because the Navy had sunk disused vessels in the area for years. During World War II, it was home to the Navy's largest terminal. Smithson loved sites like that—places that were in transitional states, whether under construction or falling apart. ("Wreckage is often more interesting than structure," he once said.)
Ms. Tuchman found this one using the map Smithson included in his non-site in 1968, but Holt, who had died a few weeks before our trip, helped her find others. "She would send me photographs that had never been reproduced," Ms. Tuchman said. "It was amazing. We have some things that no one has ever seen." In exchange, she would send back to Holt photos of what they looked like now.
"She thought I was going to find it because the hot-dog stand would still be here, but instead it's a luxury golf course and luxury housing. I never sent her what the shopping center looks like. I thought she'd be disappointed to see there was a shopping center. I didn't want to be the one to disappoint her."
It feels like a good time to be thinking about Smithson, not just because his art resonates with today's concerns about the environment and global warming, but also because its venturesome character stands in stark contrast to the conversativism that reigns in some areas of the art world.
Next stop: Passaic. Back in Ms. Tuchman's car, we flew by a Wal-Mart, windmills, office parks. New Jersey has changed since Smithson and Holt's visits, but not all that much. Smithson's proposal that it would be an ideal place to film a Mars-set sci-fi film still holds true; its tangles of roads still vex.
We made our way onto Route 3, the very road Smithson traveled in 1967 on a bus from Port Authority, making one of his most memorable works, his essay "The Monuments of Passaic." In that piece, published in Artforum magazine, he describes, in high camp, a walk through the suburban town ("has Passaic replaced Rome as the eternal city?"). Illustrations are intentionally prosaic photos of so-called "monuments": pipes, an old bridge, construction sites.
We passed the high golden reeds of the Meadowlands, which you can see in a film called Swamp that Smithson and Holt made together in 1971, a few years before the Giants moved in. To make the film, Holt, holding a camera, walked with her eyes closed through the claustrophobic fields, guided only by Smithson's verbal directions.
"This was just all landfill when I was a kid," Ms. Tuchman explained, "and it smelled—one, because it was all landfill, and two, because there was no air conditioning in your car, so you had to ride here with your windows open. So when I look at the stuff from the Meadowlands that he did, I just think it's very funny because no one's getting the smell."
We pulled off in Rutherford—"The Borough of Trees," according to a proud municipal sign—stopped by a modest house where the Smithson's lived, and then drove a few blocks to where Union Avenue crosses Passaic River via a nondescript bridge, about where Smithson began his epic journey, snapping photos along its banks. "Anyone who tries to find the walk who's not from here, they can't," Ms. Tuchman said. Some roads have been rerouted.
Next up was the Passaic football stadium, which appears in outtakes from Smithson's photos, and then Shevchenko Park, once home to what Ms. Tuchman calls "the most famous sandbox in history." Smithson included it in Artforum as his final monument, referring to it as a desert, "a map of infinite disintegration and forgetfulness." It's gone now, replaced by a full-scale playground.
In downtown Passaic, the streets were bustling. Ms. Tuchman pointed out the sights—the shops that Smithson photographed, the corner building where her father once ran a bakery (it's now a food court), and the McDonald's that replaced the Golden Coach diner, where Smithson ate lunch.
Before long we were back on Route 3, speeding past a quarry where Smithson collected rocks for another non-site, plus a few Sopranos landmarks. "See this apartment house?" Ms. Tuchman said. "Tony Soprano. This golf course, Tony Soprano." We pulled off the highway and into the Four Seasons at Great Notch Spa and Club, a gated community just north of Montclair. The area is ringed by soaring stone walls from the days when it was the Great Notch Quarry, which was still operational in 1969 when Smithson somehow managed to sneak in with friends to photograph a long mirror balancing in all sorts of improbable positions.
The sun was beginning to set, and so we pointed the car toward the city. Other sites—a field in the Pine Barrens of South Jersey, a rock formation along the Palisades in Edgewater—would have to wait for another day. Ms. Tuchman recommended a visit to the cemetery in Lyndhurst where Smithson and his parents are buried. "His grave had the best view of New York, but that building blocks it," she said, pointing out a chunky brown office building from the road.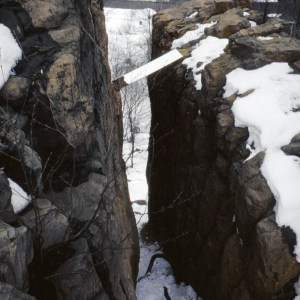 A few weeks later, I took the train out to the Rutherford station. The walk to Hillside Cemetery takes about 20 minutes along Orient Way, the same house-lined road that Smithson's bus sped along to Passaic in 1967. The direct view from his grave is blocked, it's true, but you can still get an almost-panoramic view of surrounding Jersey—smoke stacks, cell phone towers, factories, stadiums, malls, parking lots—and hear cars whipping along the nearby highways. It is its own kind of site.
Update, April 30, 6:15 p.m.: An earlier version of this article misstated the location of Smithson's death. It has been corrected. We apologize for the error.