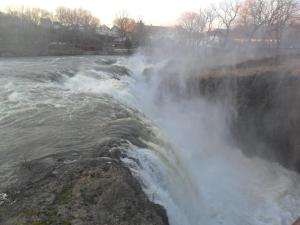 PATERSON – A little over a month from now, voters in the state's third most populous city will go to the polls on May 13th to determine who will run Paterson for the next four years.
At the center of the city stands a political collision between its two most important elected officials: incumbent Mayor Jeff Jones and U.S. Rep. Bill Pascrell (D-9).
Jones says he resents Pascrell having quietly backed his rival four years ago, while Pascrell is motivated by Jones supporting the congressman's opponent in the epic 2012 Democratic Primary.
Running deeper is the divide the two leaders have on the development of the Great Falls National Park.
Committed to relieving the city of the sitting mayor, Pascrell's allies have rallied around Council President Andre Sayegh, who four years ago ran and infuriated then-Mayor Jose "Joey" Torres in the process. In barely losing to Jones, Torres felt foiled by Sayegh on Election Day.
Now all three men are back, Sayegh reinforced by infrastructure he lacked last time, Torres out to prove the last election was a fluke, and Jones attempting to fight off the barrage of critics calling his four years a failure of leadership.
The men have some company, as eight candidates are running for mayor…