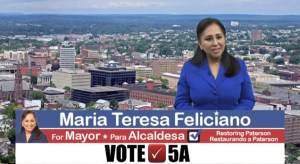 In a sign of intensification in the May 13th Paterson Mayor's race, candidate Maria Teresa Felciano is going up with an ad buy on local Cablevision channels in the Silk City.
The ad will run in both English and Spanish.
Retired as a public administrator from the criminal division of the Judiciary, Feliciano is one of eight candidates running for mayor in Paterson, and one of three Hispanic candidates.
Take a look at her ad here.
If you prefer Spanish, that version can be found here.