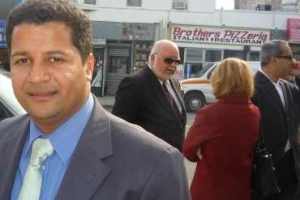 Indicted last month for election fraud, At-Large Councilman Rigo Rodriguez said he'll be the next mayor of Paterson.
Roughed up themselves and used to coping with disaster, the people will be with him, he says.
"People love me," Rodriguez told PolitickerNJ. "I'm going to win it."
He and his wife face charges of filing fraudulent mail-in ballots, but with less than a month and half remaining before the May 13th election, Rodriguez focuses on City Hall.
Drive around the city.
Many bodegas and Latino businesses in Paterson contain campaign posters of Rodriguez and the exhortation to vote for him.
In an eight-person race, the councilman is one of three Latino candidates, and – others in the contest hope – could drain votes away from former Mayor Jose "Joey' Torres to enable victory by someone else, possibly incumbent Mayor Jeffrey Jones or Council President Andre Sayegh.
Rodriguez disagrees, adamantly reiterating his belief in his campaign.
"It's going great," he said. "It's like a perfect storm. You win this thing by being a community person, by being in the street and relating to people in the street. My following is strong because they know for too long this city has been neglected. I want to bring some common sense to the mayor's office. The language we speak – we speak slang, this relates us to the people. This is not about Hispanic support. We have broad support."
First elected in 2006, Rodriguez built a strong political operation and – until the election of Councilman Julio Tavarez and Passaic Mayor Alex Blanco – was the dominant Dominican politician in Passaic County.
He maintains his innocence of charges going back to the 2010 campaign.
"I've been accused of things," he said. "It's politics. Three years they kept it, they held it. Why? It's the only thing they can use to smear my name. I'm a person of color, I'm not supposed to punch back. I'm from a poor city."
By running for mayor, he said, he is fighting back.
"My leadership is my leadership," Rodriguez said. "Giving back to the community, understanding the hurdle we go through; I am a threat to the establishment, so they will confuse the voters by putting this in their minds. But the people will not be confused about a great man."
Rodriguez slammed Jones and Torres.
"He just don't listen," he said of the sitting mayor. "We have brought beautiful, awesome ideas to him and we have been very polite and kind to this administration. We suggest certain things but he has not listened to nobody."
Torres?
"Joey broke this city," Rodriguez said. "Joey took the soul out of it by leaving a $78 million deficit. As mayor I would take a different approach to the budget. We can't afford another tax increase. This city is dilapidated right now. People are not buying here in the City of Paterson.
"I've been there for the people," added the mayoral candidate. "I've been there for African Americans, Peruvians, the Arabic community, Dominicans, all of them. I look at this city and all of us are just an ingredient in the great soup."