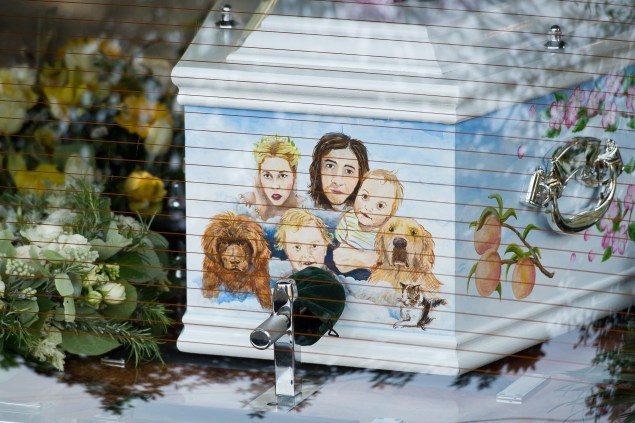 Peaches Geldof, the recently deceased journalist, model and socialite, was laid to rest on Monday in a ceremony complete with friends, family, rock stars and a colorful painted casket.
Ms. Geldof's father, singer and Live Aid founder Bob Geldof, led the tributes to his daughter who died unexpectedly in early April. The ceremony took place at St. Mary Magdalene and St. Lawrence church in Davington, the same site where Peaches' mother was laid to rest after a 2000 heroin overdose. It is also where Peaches married husband Tom Cohen in 2012. 
In addition to dozens of local onlookers, a host of well-known mourners were seen arriving at the service. The Duchess of York Sara Ferguson, former Rolling Stones bassist Bill Wyman and Kate Moss were among those paying their last respects, the New York Post reported.
Sources also informed the Post that Bono and Annie Lennox are expected to attend.
Ms. Geldof's casket was painted a sky blue, and included a mural of her husband and two young sons Astala and Phaedra. 
Mystery still surrounds the 25-year-old's death as an autopsy was inconclusive. What was confirmed is that Ms. Geldof's final send-off was as extravagant as the life that preceded it.