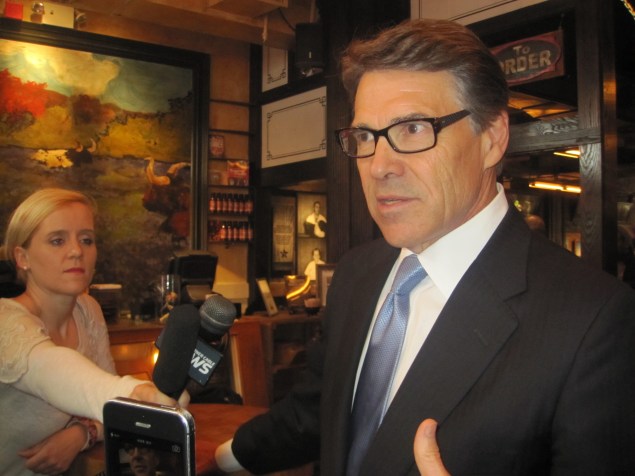 Texas Gov. Rick Perry was in New York today to make his pitch to business leaders he hopes to lure to the Lone Star State, and took the opportunity to reissue his debate challenge to Gov. Andrew Cuomo–who today declined the request.
"Yes, I'm here recruiting business. I'm don't shy away from that. I'm very upfront about that. But I'm also here to help stimulate a conversation with the people of New York state, the people in New York City, the legislators, the governor," said Mr. Perry, speaking to reporters after a lunch with business owners at Hill Country BBQ.
Earlier this week, Mr. Perry said he wanted to sit down with Mr. Cuomo face-to-face to debate the two states' approaches to economic policy, which Mr. Cuomo–whose office did not respond to requests for comment–today dismissed as  "unlikely," according to reports.
"I hope he'll seriously consider doing it. I think it would be good for the people of New York and it'd be good for the country," said Mr. Perry. "I'll leave that to you all to probe him on."
The former Republican presidential candidate, who is considering another run in 2016, has been criss-crossing the country, speaking to local business owners and quietly rebuilding his national brand. And while Texas isn't often embraced by New Yorkers, he said his reception so far had been positive.
"People are curious," he said of his pitch, claiming that multiple players had expressed interest in setting up shop down south, but declining to name names. "I don't want to put people in an uncomfortable position of having the mayor or the governor call 'em up and, 'What are you doin'?'" he said with a smirk.
Mr. Perry has long made the case that high taxes and tight regulations have stymied New York's growth, and argued the Empire State has a lot to learn from Texas.
"I do not argue the fact that New York has as vibrant a cultural arts scene as there is in the country. I will give you that. California has beautiful weather. And Napa Valley is hard to compete with when it comes to their wine. But the fact is, you can't sustain all of your life just on Broadway, or just on Napa Valley or just on the weather," he said today. "There are other things that are really important to people, like being able to keep more of your money."
Mr. Perry also took the opportunity to prod Mr. Cuomo, who has been running ads urging out-of-state businesses to relocate to new "Start-Up NY" tax-free zones, which Mr. Perry said he'd happened to catch on TV last night.
The ads, he said, "are really good, by the way. But why would you be showin' 'em in New York City? I mean, just curious," he asked. "If you were really interested in luring business, you'd be out doin' those in Texas or Oklahoma." Texas ran similar ads in New York earlier this year.
Still, he said the effort was a sign of much-needed competition, which he credited himself, in part, for spurring.
"I'm not going to take credit for this, but I've got to think that one of the reasons that the New New York ads are being run is 'cause I showed up here a year ago and [Florida Gov.] Rick Scott came up here and made the pitch. And [Louisiana Gov.] Bobby Jindal has been to New York to make the pitch for his state," he said. "Bobby Jindal makes me really uncomfortable."
As for the recruitment efforts, several of those in attendance today sounded intrigued.
"I don't share his political vision, but I do like what he's doing," said Ibrahim Foina, who works in investment banking, and said he'd met several people who sounded like potential business partners as he left the meeting.
Ron, 52, who runs an infrastructure technology company and declined to give his last name, said he'd attended "to see what Texas has to offer" and walked away impressed.
Asked if he would miss New York, however, the man quickly made clear that no matter where his company expanded, he was staying put.
"I'm not going anywhere," he said.