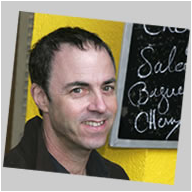 Yesterday I got the most unexpected and most awful of texts.
My friend, the peerless professor and scientist Seth Roberts had died. According to his sister, who posted on his popular blog, Seth collapsed while hiking over the weekend.
The news hit me extra hard because on Wednesday Seth had submitted what was to be the first of a long awaited column here at Betabeat called "Personal Science." And worse, I was overloaded and I put off responding. I starred the email and intended to respond today.
It's crushing news to the scientific community, to the Quantified Self community (which Seth was a founding member of), his countless students at UC Berkeley and Tsinghua University over the years, his readers and everyone that knew him.
Though his work has been internationally recognized and published in countless places and was the subject of bestselling books, it was really his work in personal science and experimentation that impacted the most people.
Seth was the kind of guy who influenced the influencers. His fans included everyone from Tyler Cowen to the Freakonomics guys to Tim Ferriss and Tucker Max to Nassim Nicholas Taleb and countless, countless others. That's how good and important his work was–smart people with huge audiences turned to him not just for big theories but for tips, tricks and hacks to make their lives better. And he always came through, even for us smaller folks.
He's the reason I eat copious amounts of butter (it improves brain function). He the reason I eat pork belly and other fatty meats. I had to memorize a long talk recently and the first thing I did was head straight to the gym and practice it on the treadmill–because of something Seth told me. He's the reason I take Omega 3 and eat fermented foods (eating Umami Burger with Seth was a real pleasure). He's the reason I read and value Jane Jacobs and Edward Jay Epstein. His writing on acne and skin care changed how my fiancée takes care of her skin. These are just the things I can remember off the top of my head. (He's also the reason I order my steak medium rare because we had dinner at a fancy steakhouse when I was just getting started in business and he helped me order and I haven't changed it since).
It is an honor to have received what I can only assume is the last thing that Seth wrote. I clearly don't deserve that honor because I didn't immediately reply and tell him how happy I was with it. Or how much he'd helped me over the years and how excited I was to help put it in front of more people. I didn't even tell him that I'd received it–because I was busy with trivialities.
This is how life goes though, doesn't it? The second you take it for granted, you're reminded why you can't ever let that happen. Because in that time, the world can lose not only just a great friend, a great writer, and a great thinker but it loses precisely the person you figured would live forever.
Goodbye Seth Roberts, you are missed.