From its curtained windows to its chevron marble floors, the Sant Ambroeus in Soho was designed to evoke old-world charm. In the tradition of its Southampton and West Village outposts, warm-lit interiors and a wood-slatted bar beguile a handful of actors, trenchcoated fashion girls and blue-blazered gallerists. Who doesn't want to be seen here?
The restaurant's no-nonsense upstairs neighbors, however, are utterly unseduced by its noisy exhaust system.
"It's kind of like living on a tarmac," said Jimi Celeste, an 18-year resident of 265 Lafayette, the six-storey brick apartment, which rents its first floor to the celebrated Milanese eatery. Last January, the porch-tiled pasticceria moved in, renovated the space and installed a whirring steel vent on top of their roof. Every morning, Mr. Celeste wakes up to a "loud white noise" that drones on until midnight. "When the system starts up, it sounds like a jet engine," said the photographer, who works a late shift and recently had to add another accessory to his trademark scuffed shoes and sunglasses-at-night. "I have to sleep with ear plugs on."
Two floors down from Mr. Celeste, Roy Havrilack, a film and commercial producer renting since '96, explains that a courtyard encloses the irksome pipes, creating a tunnel of sound "all rising up and reverberating." A nest-haired artist who lives in the building said it felt like she was in a bee hive.
Even closer to the source, freelance writer Sharon O' Connell can reach out and touch the vibrating metal ducts from the bathroom window of her second-floor apartment. "It's seven days a week," she said. "The stress and sleeplessness has caused me physical and mental duress. It feels like you're in an MRI machine."
Along with other tenants in the building, the three have filed multiple noise complaints with the Department of Environmental Protection, which measured the noise at 66 decibels, 11 units higher than the legal limit for outdoor exhausts. However, pending a hearing slated for the end of May, the DEP cannot issue a ticket. (Sant Ambroeus' owners defaulted on an initial hearing for March 18th and simply paid the fines.) Neither the building's landlord nor the Department of Buildings has responded to residents' complaints. "There's a bit of a dance going on," said Mr. Havrilack.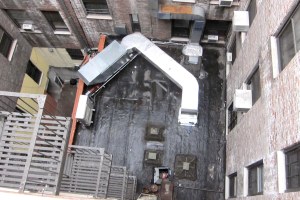 At half past 3 p.m. on a Friday, the Observer dropped in on Sant Ambroeus' nattily dressed manager, Alireza Niroomand. Clad in a summer suit and loafers, he had just come from Mr. Celeste's apartment to check on the sound. "The white noise is nothing out of the usual," he said, sliding onto a stool beside us as a sleepy soundtrack of Camera Obscura wafted from the speakers. Behind him, fair-haired patrons sank deeper into orange leather benches and forked distractedly through half-eaten millefoglies. "It's very sad, you know. It's not true that we don't care."
Languishing on top of the bar, he told us that they had spent a lot of money on fixing the vent, and wouldn't we rather write about the ceramic plate art series he's curated, in a row on top of the liquor shelf? "That one with the eye in the middle is by Simon Doonan and Jonathan Adler. Have you seen the one by Brian Atwood?" We shimmied up from our seat and lock eyes with a stiletto drawn in Magic Marker on a dish, rimmed by a laurel wreath of crystals.
Prying ourselves away from the spectacle, we asked what specific changes had been made to the vent, but ended up, on Mr. Niroomand's advice, calling a well-meaning communications director who told us she'd call back if she found the information. (She never did.)
Until the hearing this spring, the building's residents have resigned themselves to calling the restaurant to switch the fan off at 11 or 11:30 p.m. every night. "They're so used to me that sometimes I call and the phone rings, and they don't even answer, they just shut it off," said Mr. Celeste. On a rainy weeknight, his fifth-floor neighbor who has never even set foot in Sant Ambroeus, Steven Beeson, volunteers to do the honors for him. "Hear that?" he said, to a sound like an engine turning off. "You can sort of get used to the hum. But now, this is so peaceful."