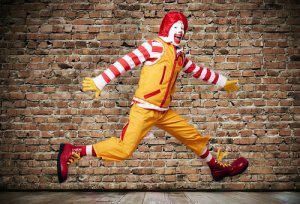 Yo, yo, yo kids! What is up in this house? Are you down with ORD? I said (shouting now) "You down with ORD?" I can't hear you!
Are you asking what ORD is? Sorry, you're going to need to work on your collective call-and-response techniques. It's sounding pretty garbled from up here, on stage at (insert regional location)'s fine Hamburger University! I'm here to rap to you guys about the original gangsta, Ronald McDonald. He's getting some "fresh" updates to his wardrobe, just in time for 1996!

From our McPress release:
McDonald's Unveils New Mission and Image for Brand Ambassador Ronald McDonald
April 23, 2014 Ronald McDonald, who represents the magic and happiness of the McDonald's brand, is setting out on a global mission to rally the public through inspiring events.

For the first time, Ronald McDonald will take an active role on McDonald's social media channels around the world and engage consumers using the #RonaldMcDonald hashtag. As Ronald begins his journey, he seeks to deliver on the mission: "Fun makes great things happen" – the idea that moments of fun and enjoyment bring out the simple pleasures in life and can lead to acts of goodness.

"Ronald brings to life the fun of our brand by connecting with customers around the world, whether he's promoting literacy or spreading cheer at a Ronald McDonald House," said Dean Barrett, Senior Vice President, Global Relationship Officer. "Customers today want to engage with brands in different ways and Ronald will continue to evolve to be modern and relevant."

Owner/operators of newly-built and remodeled restaurants around the world will also have the opportunity to incorporate revamped in-store graphics, furniture and other design elements featuring Ronald McDonald within restaurant interiors over the next few years. Television ads and promotional materials in the U.S. with the newly-reimaged Ronald will begin appearing later this year.

Ronald McDonald will be sporting a new wardrobe, which includes yellow cargo pants and a vest, accompanied by a red-and-white striped rugby shirt. His iconic big red shoes will remain the same. Reserved for special occasions, Ronald has a whimsical new red blazer with the Golden Arches on the front pocket and his well-recognized signature on the back, and a special bowtie to complete the look.

Ronald's new clothes were designed by esteemed theatrical designer Ann Hould-Ward. In addition to countless Broadway, off-Broadway, and regional theater credits, Hould-Ward won a Tony Award for "Beauty and the Beast," and received nominations for "Into the Woods," and "Sunday in the Park with George."

"Designing new clothes for Ronald McDonald was one of the highlights of my career," Hould-Ward said. "I've worked with some really big names over the years and suiting up a living legend was a real thrill."

"It's wonderful to see what Ronald means to people around the world," said Marlena Peleo-Lazar, Chief Creative Officer for McDonald's USA. "We couldn't be more excited to give him a new look and send him off to visit his fans everywhere."

Ronald McDonald can't wait to connect with people through social media. "Selfies …here I come! It's a big world and now, wherever I go and whatever I do…I'm ready to show how fun can make great things happen," said Ronald McDonald.
Rugby shirts! Cargo pants! Vests! Also hashtags! This is definitely going to be way chiller than our last foray into social media, you guys! Get pumped! By the way, did you catch our brand endorsement on the hipster program Portlandia last night?
[protected-iframe id="616599d22bb3cf8343a8b5449a8cf5e9-35584880-35147716″ info="http://c.brightcove.com/services/viewer/federated_f9?isVid=1&isUI=1″ width="480″ height="270″]
Pretty fresh!