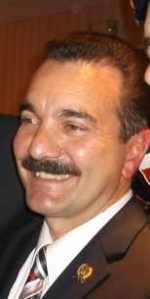 NEWARK – At the breakfast before the 77th annual New Jersey Chamber of Commerce Walk to Washington train trip at the Newark Hilton on Tuesday morning, State Assembly Speaker Vincent Prieto (D-32) downplayed his clash with Gov. Chris Christie regarding the ongoing debate over interest arbitration caps for unionized police and firefighters.
"I wouldn't characterize it as a fight, I would characterize it as a negotiation. I have sat down with the governor. We are talking," Prieto told PolitickerNJ.com. "At this point in time, those conversations are private between me and him. We're trying to figure a compromise that's good for everybody."
Prieto refused to post the proposed interest arbitration cap bill for a vote after allowing the law to sunset late last month. Prieto's refusal compelled Gov. Chris Christie to publicly ask "What's to negotiate?" at a recent Somerset town hall event, the day after the governor called on state Assembly leadership "not to play games anymore" and pass the arbitration cap bill. The measure would establish a 2 percent cap on interest arbitration awards for unionized police and firefighters.
"It's just about us getting to somewhere where we can be comfortable," said Prieto in reference to his ongoing discussions with Gov. Christie. "I think there is a balance to strike here between the taxpayers and our public safety officials. Everything is very liquid right now. We both understand what needs to be done."