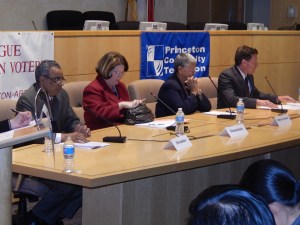 PRINCETON – It's difficult to imagine plasma physicist Andrew Zwicker running for Congress without discerning a mathematical formula that somehow gives him a way to beat the odds.
Having said that, his most consistent underlying theme in this 12th District Democratic Primary – that a district thoroughly spoiled by Rush Holt deserves another braniac who can deep-six Deep Blue – is hardly reinforced by Zwicker's lack of a single primary line in a district made up of sections of four Democratic-leaning counties.
That's even before one considers (see below) the money factor.
As two of his political rivals in this contest engage in a Godzilla v. Mothra county organization beat-down, the detail-oriented Zwicker tonight appeared to delight in simply trying to win a debate sponsored by the local League of Women Voters.
People could see how this was going to go right away when the moderator asked a question about Internet neutrality.
"The Internet was created by physicists," said Zwicker, and just as the crowd leaned in trying to detect if the lone physicist among the contenders was going to flaunt his knowledge, he grinned, signaling humor in the act of being well-informed.
The foursome received another question, this time about nuclear weapons.
"As a physicist I obviously can speak in detail about nuclear weapons," said the candidate.
He didn't.
"It's one of the things – along with climate change – that keeps me up at night," he added, revealing, or so it seemed by the reaction of this liberal crowd – a heart.
In fairness, it was Zwicker's crowd – a sedate, Princeton crowd where one could hear a test tube crack. The command at the outset for everyone to turn off electronic devices was followed up with well-timed pointed stares behind horn-rimmed glasses.
Battle-tested in a land of boss politics, street fights, compromises, real politick and Gov. Chris Christie-imposed submission locks, the party politicians appeared undeterred.
But while state Sen. Linda Greenstein (D-14), Assemblywoman Bonnie Watson Coleman (D-15) and Assemblyman Upendra Chivukula (D-17) took turns beating up on the Tea Party in this town where Zwicker teaches and his campaign posters adorn the walls of dormitories on the Ivy League campus, the professor throughout wore the friendly grin of a professional slugger competing in a t-ball contest.
"We have to remove all the money from politics immediately. Nationally 90% of political campaigns are won by candidates with the most money," he said sternly.
There were exactly three sets of rolled eyes at the front of the room.
"Hopefully not this time," added the candidate, who has $4,000 cash on hand.
A relaxed Chivukula kept pace with the all-night leftward pace of the action: pro-Obamacare, but single-payer is the long-term goal; pro wind, solar and alternative energy; pro RGGI; pro-gun control and federal spending for mental health.
Both women – widely seen to be battling each other for the June 3rd win as a consequence of their organizational alliances – stumbled only somewhat at the outset.
Just when it looked like Greenstein had made a mistake by reading from prepared remarks, Watson Coleman – trying to look unrehearsed – found herself briefly jammed up as she tried to finish a sentence.
Round One for the frontrunners: a draw.
By the time Zwicker was done, the showdown on Witherspoon had turned into Watson Coleman and Greenstein exchanging political pleasantries from the past.
"I sponsored the Clean Elections legislation that worked because we still have [Linda] in the Legislature," said Watson Coleman with nary a trace of irony, before pivoting again to the Tea Party.
"Boisterous, mean-spirited and evil," she said of the extreme reaches of the GOP.
Greenstein attempted to land a point when she noted her commitment to gun control. She feels so strongly about the issue, she said, that her campaign made it the subject of her final ad push in pummeling former Republican state Senator Pete Inverso.
Light-heartedly going for the storyline that puts him in coziest proximity to the man they all seek to replace, a Holt doppleganger complete with lab coat and pocket protector, Zwicker reflected on an early call he put to the retiring congressman in which – in the process of sizing up his own designs on a run – he asked if Holt had simply succumbed in exhaustion to the cacophony.
"He assured me that was not the reason why [he decided to retire]," Zwicker said.
"Science is a great way to communicate," he added, "and one small way we can start the dialogue to make things happen."
If the crustiest politicos in CD12 don't see a way for him to win, and question in the most dog-eared, ground game way, his political math skills, at least one of them heading into the rainy night conceded, speaking on condition of anonymity, that Zwicker could debate.