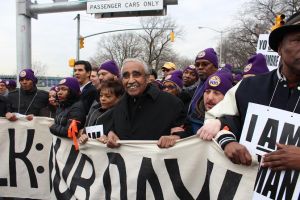 Congressman Charlie Rangel, who is facing a tough re-election battle in a rematch against State Senator Adriano Espaillat, has notched another endorsement, this time from the teamsters union.
Teamsters Local 237, which represents 24,000 workers in the city, has thrown its support to Mr. Rangel, who is trying to win a final term in Washington, the union's president announced today.
"The men and women of Teamsters Local 237 are united in supporting Congressman Rangel for reelection," Teamsters Local 237 President Gregory Floyd told the Observer in a statement. "Whether it's standing up for better wages, passing health care reform or protecting the middle class, Congressman Rangel has been a true champion for the people. Our members strongly support Congressman Rangel for another term – he's the clear choice to keep delivering results for New York City."
The group represents many city employees working in government agencies, many of whom are heavily concentrated in the recently redrawn 13th Congressional District, according to the Rangel campaign.
"I'm proud to be supported by the women and men of Teamsters Local 237. Whether they are in public schools, senior centers, public housing or the Javits Center, the members of Local 237 keep this city running, and I'm honored to receive their endorsement," Mr. Rangel added. "It will be a privilege to keep representing these dedicated workers and the rest of District 13 in Washington, where I intend to continue the fight for good jobs, higher wages and better healthcare for the working families of Manhattan and the Bronx."
Mr. Rangel was recently endorsed by Senator Kirsten Gillibrand and also has the backing of Assemblymen Keith Wright and Danny O'Donnell, among other elected officials.
Mr. Espaillat had seem poised to emerge as a labor favorite, and has snagged nods from the Transport Workers Union Local 100, which represents more than 60,000 subway and bus workers, as well as Council Speaker Melissa Mark-Viverito, Assemblyman Karim Camara and other local officials.
Also in the race is Pastor Mike Walrond.
View the full release, set to go out wide this afternoon, below:
TEAMSTERS LOCAL 237 ENDORSES REP. CHARLES RANGEL FOR REELECTION


24,000 Members, Heavily Concentrated In NY-13, Will Carry Out Comprehensive Effort To Reelect Rangel

Teamsters Joins Growing List of Endorsers for Congressman Rangel's Reelection in 2014

Teamsters 237: Congressman Rangel has never stopped fighting for working families in NYC, now we will fight for him
NEW YORK – On the heels of a major endorsement from U.S. Senator Kirsten Gillibrand, Congressman Charles Rangel announced the support of Teamsters Local 237 today in his bid for re-election. The union cited Rangel's longstanding commitment to fighting for workers rights in giving the Congressman their steadfast support. This endorsement follows another key labor endorsement for Rangel's reelection from the 6,000-member Plumbers Local 1.

Teamsters Local 237, whose 24,000 members are New York City employees working in government agencies – and are heavily concentrated in the 13th Congressional District, will carry out a comprehensive effort among its members to reelect Congressman Rangel.

"The men and women of Teamsters Local 237 are united in supporting Congressman Rangel for reelection. Whether it's standing up for better wages, passing health care reform or protecting the middle class, Congressman Rangel has been a true champion for the people. Our members strongly support Congressman Rangel for another term – he's the clear choice to keep delivering results for New York City," said Teamsters Local 237 President Gregory Floyd.

"I'm proud to be supported by the women and men of Teamsters Local 237.  Whether they are in public schools, senior centers, public housing or the Javits Center, the members of Local 237 keep this city running, and I'm honored to receive their endorsement," said Rep. Charles Rangel.  "It will be a privilege to keep representing these dedicated workers and the rest of District 13 in Washington, where I intend to continue the fight for good jobs, higher wages and better healthcare for the working families of Manhattan and the Bronx."

In addition to Senator Gillibrand and the Teamsters, the Congressman Rangel has been endorsed by Congressman Joe Crowley, Assemblyman Keith Wright, Assemblyman Danny O'Donnell, former Assemblyman (and 2010 opponent) Adam Clayton Powell IV, Councilwoman Inez Dickens, former Councilman Robert Jackson.

Rangel has also earned the endorsements of many clubs throughout Manhattan and the Bronx, including the William Jefferson Clinton Democrats, Jim Owles Liberal Democratic Club, Three Parks Independent Democrats, Broadway Democrats, Tioga Carver Democrats, Frederick E. Samuel Democratic Club and West Harlem Progressive Democrats.

For more information on Rep. Rangel's campaign, please visit:
www.charlierangel.org