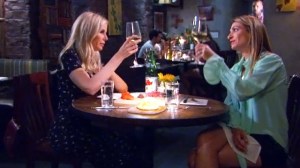 This episode of The Real Housewives of New York City  was kind of gross. Even my DVR weighed in, cutting off the first four minutes of the episode to my great chagrin. The first thing I saw was Carole Radziwill, possibly wearing overalls, telling Kristen Taekman's husband Josh that she should be giving him one blowjob a day as part of her "wifely duties," so who knows what other depravity I missed.
This occurs at a party, which context clues tell me was Ramona Singer's "Triumphant Return from Africa" soirée. Unsurprisingly, Ramona has declared herself cured of her chronic busybody syndrome thanks to Africa (Yep, THE WHOOOOLE CONTINENT) and wants everyone to get along. A key part of this process, according to her, is having Heather Thomson extend an invitation to Aviva Drescher to her 10th wedding anniversary party. Heather does not think this a good idea. Heather is right.
Nonetheless, we are off. Ramona exclaims over a rickety-looking $79.00 shelving unit for her daughters dorm room at The Container Store while Aviva fills her in on new developments with #BOOKGATE, presenting a version of events that makes it sound like Heather went ballistic on her completely unprovoked.
"I just came back from Africa, animals, helping children — we are so fortunate," Ramona declares in an exasperated tone. Meanwhile, Kristen pretends to run up and down brownstone steps in slow motion, which given what we've seen of Kristen could just be how she prefers to exercise, but we quickly learn that she's modeling for Heather's Yummie shapewear line, the least likable thing about the very likable Heather. Carole is also there. #BOOKGATE comes up.
"I'm not mad at Aviva," Heather explains. "I just don't like how Aviva treats people." This show is not kind to rational people, and this makes me fear for her.
"I think being in Africa I came back with this whole new attitude, very peaceful," Ramona says in an interview. She decides to call Heather and broker peace right there in The Container Store.
"I'm coming back from Africa and I want to have fun with everyone," she tells Heather. The people of Africa are crying out for a resolution! Despite Ramona aggressively pushing the doctrine of false equivalence — while there are occasionally two equally valid sides to a story, in this case there is one rational side to the story and then, on the other hand, Aviva acting like a literal lunatic — Heather agrees to sit down with Aviva and talk it out.
"I'm afraid of you, Heather," Aviva interjects.
"You're afraid of me?" The contempt in Heather's voice cannot be done justice on the page. They agree to a summit. Ramona beams, knowing that she and everyone in Africa will sleep soundly that night, dreaming the dreams of the righteous.
There's a brief interlude in which Heather's husband Jonathan hosts Carole and Kristen for a clandestine caviar tasting for an anniversary gift he's planning for Heather.
"Foreplay is caviar for Heather," Jonathan says. Wait. Shouldn't that be the other way around? Never mind, that's like the twentieth most revolting thing that is said at this tasting. As it turns out, Heather apparently promised Jonathan a threesome on their ten year anniversary, a tidbit he reveals while glancing at Carole and Kristen in an appraising sort of way. The three of them make the poor waiter hang out and listen to them talk about threesome logistics before he can tell them about the caviar.
"Of course I love my husband, but he's definitely not as affectionate as Jonathan is with Heather," Kristen says. Blarg! I think Jonathan seems pretty nice and this was probably a joke that was edited to seem like a ~SaUcY PrOpOsItIoN~ but still, blarg.
Aviva and Heather meet for their peace talk and immediately disagree about sweet versus dry white wine (dry, always dry, dry forever) and then Aviva says the following:
"I just took [you yelling at me] up the butt…I felt very much verbally raped by you." I mean, whoa.
"She's the one who verbally rapes people; I keep it real," Heather says in an interview, which on the one hand is hilarious and on the other just lends credence to "verbal rape" being a thing, which it is decidedly not. Do better, ladies! Heather immediately backs up her claim with some real talk, asking Aviva to account for telling Sonja last season that she was on a downward spiral like Anna Nicole Smith—
"Which was actually a huge compliment," Aviva interjects—
"She died, Aviva." Aaaaahahahahaha. I replayed it seventeen times.
Aviva switches tactics. "What have I done to you??" she asks Heather. There's some cable news-esque cross talk in which the Mommy Flame Wars are briefly reignited ("Why don't you get a job and show me what it's like?" — Heather) before Aviva asks Heather if she honestly cares about her. Heather says that she does, and the two of them decide to make up, but not before Aviva compares her book to a baby through tears and accuses Heather of being ~LeSbIaN LoVeRs~ with Carole, which is a window into an abyss in Aviva's psyche too deep and dark for anyone who isn't a psychiatrist to plumb. Heather says she'll think about inviting Aviva to her party the next day.
Briefly noted: Avery has breakfast with her parents and Ramona has a conniption about her going to college that fall, screaming "DO YOU WANT TO COME HOME FOR LABOR DAY????" and prompting Avery to tell her mother she'd prefer to spend more time with her dad, throw up deuces and jump out the window, probably.
At Sarabeth's, Kristen and Carole meet Brandi Glandville and Yolanda Foster of The Real Housewives of Beverly Hills fame for some ~EdGy GiRl TaLk~, which includes Kristen's torrid affair with an Elvis impersonator at her bachelorette party in Las Vegas, pregnancy sex, and not being able to drink at lunch because you took a Xanax (…Carole).
Later, while Kristen and Carole wear workout gear and sit on the floor together, they talk about how Saturday is empirically the best day of the week to have sex. Meanwhile, Aviva shows Sonja and Ramona a very nice and completely fair text from Heather telling her that while she's happy they met, it's too soon for her to feel comfortable extending an invitation to Aviva to her anniversary party. Ramona, Sonja, Aviva and the entire continent of Africa are outraged and summarily boycott Heather's party. See what I mean about this episode being gross?
Anyway, the episode ends with Heather's rooftop party and she and Jonathan seem really in love and she gets really excited about the caviar. All of that is great. It all pales in comparison, however, to Carole's conversation with Kristen, in which Kristen asks Carole if she thinks her marriage will make it ten years, then tells her that she was privately seeing a therapist who agreed to treat her and Josh as a couple without informing Josh that she had been treating his wife on her own.
"That's…unethical," Carole says, speaking for all of us. I'll say. See you next week for more yelling, drinking and using your fondness for the continent of Africa as proof that you are a better person than all of your friends.