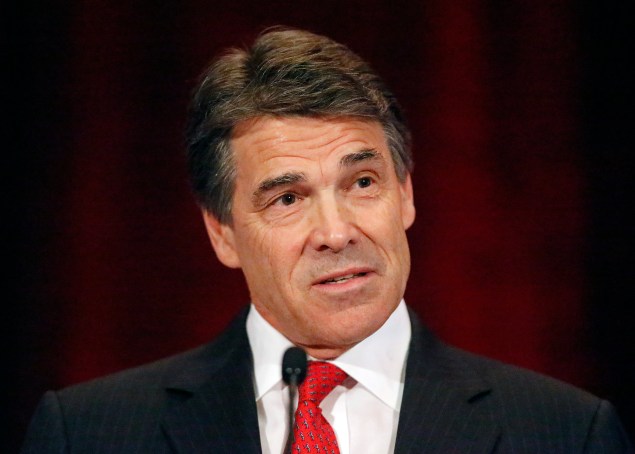 Texas Gov. Rick Perry, who will be arriving in New York this afternoon for a trip trying to lure businesses to the Lone Star State, offered a Texas-sized take-down of Gov. Andrew Cuomo's record on job creation this morning and challenged him to a debate.
"I'd be more than happy to sit down and have a thoughtful conversation, a debate with Gov. Cuomo over the issues that face us as a state and talk about the economic policies and compare New York to Texas," said Mr. Perry, speaking on New York Post columnist Fred Dicker's Live from the State Capitol radio show. "I think that would be not only interesting and fun, but a thoughtful way for us as a country to have a discussion between two of the major states in America, talking about which one of these policies are actually better for our people."
Mr. Cuomo has made a point of emphasizing tax cuts and job growth as he runs for re-election, but Mr. Perry quickly brushed aside those efforts. Asked about an ad campaign Mr. Cuomo has been running advertising the state's new tax-free zones to lure new businesses, Mr. Perry ran through a list of companies that had relocated or expanded into Texas recently, and also pointed to New York's high net migration rate.
"There's a real message there: More wealth left the state of New York and California than any other two states in the nation," said Mr. Perry. "And you have to be honest about this: It's about tax policy, it's about regulatory policy, it's about the legal system, and then it's about a skilled workforce."
Still the Republican had some kind–if veiled–words for Mr. Cuomo. He pointed to a Tax Foundation tax burden tally that moved New York up two spots from 50th to 48th place this year.
"I will say, in New York's credit, they've moved in the right direction,"  said Mr. Perry. "Of course there was only one direction you could go in New York."
He was more sincere when it came to the thinking behind Mr. Cuomo's tax-free initiative and charter schools, which Mr. Cuomo has ruffled many liberal feathers by ardently supporting.
"I'm going to tip my hat to Governor Cuomo," said Mr. Perry. "Gov. Cuomo understands that to be competitive in the world and prepare these kids in New York City for the jobs of the 21st century, you've got to be competitive and have these schools performing at a higher level."
"He understands that, I think instinctively, that we compete against each other–not just state against state, but the United States against other counties," he added, "and to be at the top of our game, we've got to have a skilled workforce, and that comes from accountable schools."
It was a different story when it came to Mr. Cuomo's indecision in the area of hydrofracking, which Mr. Dicker strongly supports. Mr. Perry compared the border between Pennsylvania, which allows fracking, and New York, which doesn't, to "going between two different countries from a standpoint of economics."
"It's like East Berlin and West Berlin used to be during the cold war," Mr. Dicker claimed.
"I don't understand why a governor like Gov. Cuomo, who is a smart and thoughtful individual, would allow a small group of radical environmentalists to stop job creation and to stop people's ability to have a better life for themselves, especially when the science has proven to be safe," Mr. Perry said.
As for whether he's planning another run for president after fizzling in 2012, Mr. said any announcements will have to wait until next year.
"We'll make a decision some time in 2015 about what future political plans we have," said Mr. Perry, quickly brushing off the possibility of an Andrew Cuomo-Rick Perry face-off if Hillary Clinton doesn't run in 2016.
"I don't know about that. We certainly have not taken it off the possibility list," said Mr. Perry, who said he thought the proposed debate was a far more likely outcome.
"Now that's one that's more liable to happen," he said. "Hopefully we can work out a time when we come and do that."
A spokesman for Mr. Cuomo did not immediately respond to a request for comment.
Update (1:04 p.m.): Danny Kanner, a spokesman for the Democratic Governors Association, responded to Mr. Perry's comments with a link to the then-candidate's infamous "Oops" debate debacle of 2011.
"A little free advice for Rick Perry: the fewer debates with anyone, the better," he said in a statement. "Oops!"