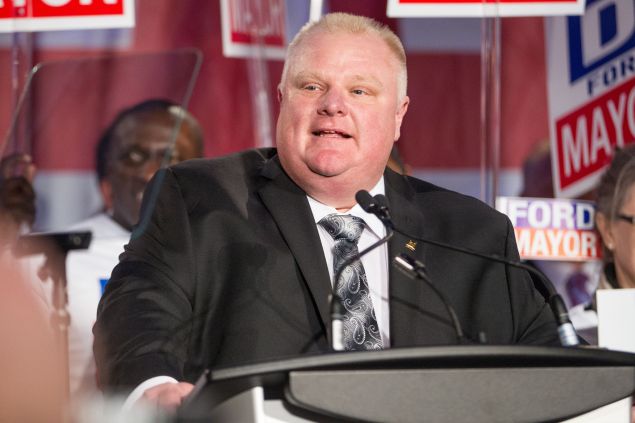 It's on–just leave the booze behind.
Toronto Mayor Rob Ford, who infamously admitted to binge drinking and smoking crack last year, reportedly says he's happy to accept Brooklyn Borough President Eric Adams's proposed bet over the Brooklyn Nets vs. Toronto Raptors NBA playoff series.
"It's a great series with two good teams," Mr. Ford said at a recent press conference, according to the Toronto Sun. "And the fans in both cities are amazing."
His only condition: "I don't want it involving alcohol because [I] know it will get spun."
Over the weekend, Mr. Adams rushed to defend his borough's basketball team after the Raptors' general manager yelled "Fuck Brooklyn!" to rally fans in Canada. (The general manager, Masai Ujiri, eventually apologized for his language.)
"It's unfortunate that the Raptors' GM felt so desperate facing against our Nets that he would throw profanity around discussing our beloved borough, but I can't say I'm surprised. After all, Brooklyn is a classier place. Just compare Babs to Biebs, or spend some time with their…colorful mayor," Mr. Adam declared, offering to bet a six-pack of beer from Brooklyn Brewery on the series' outcome.
Mr. Adams formally wrote to Mr. Ford today accepting the alcohol-free challenge, according to a letter obtained by Business Insider.
"I am pleased to learn that you are interested in this opportunity, so I would like to offer you the terms of the winner receiving a CD of our favorite local artist," Mr. Adams wrote. "Best of luck to both teams (and go Nets!)."