For his latest exhibition at Metro Pictures, "Gang of Cosmos," Robert Longo has taken appropriation art to a kind of logical conclusion. Using his favored medium of black charcoal on paper, he has filled the gallery with a series of hyper-detailed recreations, some of them to scale, of Abstract-Expressionist masterpieces by the likes of Willem de Kooning, Franz Kline and Jackson Pollock.
At Petzel Gallery the exhibition continues, turning from the era's art to its politics. In this portion of the show, called "Strike the Sun," there is a drawing of Black Jack, the riderless horse in President Kennedy's funeral procession, a monumental, seven-panel drawing of the U.S. Capitol, and a 17-foot-high wax-on-wood-and-steel sculpture of the American flag, seemingly sinking into the floor at a vertiginous angle and titled Untitled (The Pequod). Two artworks act as segues between the shows: A small depiction of Black Jack, hanging just outside the exhibition proper, is the first piece you encounter at Metro; a small, recreated black Ad Reinhardt, its original dating to the fateful year 1963, is displayed in roughly the same position at Petzel.
There is something complex and affecting going on in Mr. Longo's new series that relates to American history, personal history and the place of image culture in both. He has spoken of how the black-and-white painting recreations hark back to reproductions of these paintings that he saw as a teenager in publications like Life magazine. Similarly, the Black Jack images refer to photographs or TV stills. He is posing worthwhile questions: Can any reproduction convey the aura of the original? Is it enough to look at history, or would we do better to see ourselves seeing it?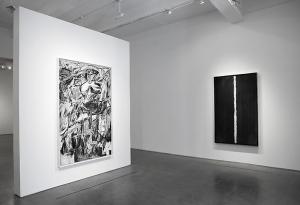 And yet, Mr. Longo's position on these things is difficult to place. At Metro, is the tone sincere (an homage, if a necessarily ambivalent one) or sarcastic (so much for the supposedly inimitable chefs-d'oeuvre)? Like many artists who work with appropriated imagery, he seems to want to have it both ways. (Correspondingly, the cop-out critical position would seem to be, so do we all: In our image-saturated times, we are all of many minds about  everything.) Mr. Longo's tone remains similarly slippery at Petzel. The American flag sculpture is so freighted with obvious allusions—from the charred remains of the World Trade Center to Jasper Johns' famous encaustic Old Glory to Richard Serra's leaning sculptures to oil (rivulets of slickness in its obsidian patina), to the sinking ship of its title—as to render it weirdly kitschy. Or perhaps it is meant to be kitschy, a dark gesture with an edge of humor. The piece comes across as overwrought, if impactful.
The real star of this double-barreled exhibition is the Capitol building. Displayed last year at the Aldrich Museum in Ridgefield, Conn., the work is shown to its best effect at Petzel, given a long room that it fills with its strange mood. The building glows, almost seems to pulse. One can't help but see it as more sinister than majestic; like the flag, as a symbol it is a container for more significance than it can possibly hold. Overflowing, it bears down on us. There is a hint of the sublime—perhaps a subtle nod to the "Barnett Newman" up at Metro—and you at once want to stay in the room with this sensation and flee it.
Mr. Longo's pair of exhibitions is not entirely successful. These pieces lack the immediate iconic quality of his "Men in the Cities" series, for instance, which captured with razor acuity the zeitgeist of the 1980s. Though weaker, these latest works feel closer to the bone: a late-mid-career artist (Mr. Longo is 61) looking at how he looks back. He is deeply invested in artistic self-examination, and in saying something, as opposed to simply creating, as with so much appropriation, just another clever flourish. I look forward to seeing what he does next.
(Metro Pictures through May 23, 2014; Petzel Gallery through May 10, 2014)