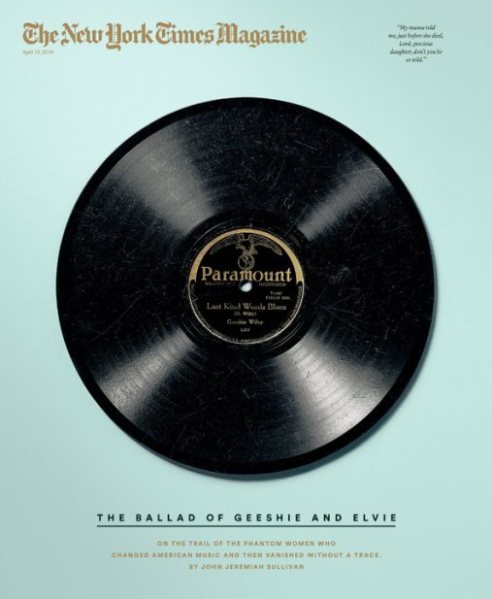 Robert McCormick's daughter, Susannah, has responded to John Jeremiah Sullivan's recent New York Times Magazine cover story, which relies on an interview transcript pilfered from the home of her father, the blues historian in his mid-80s whose massive blues database built from years of on-the-ground-research in the Deep South has left musicologists salivating for decades.
In an email to the Observer, Ms. McCormick said she was "appalled" by Mr. Sullivan's Times piece, published on April 13, which revealed groundbreaking information about the enigmatic blues musicians Geeshie Wiley and Elvie Thomas—information Mr. McCormick had been reluctant to make public.
"John Jeremiah Sullivan and Caitlin Love wormed their way into the home of an elderly invalid under the guise of 'helping him,'" Ms. McCormick said, alluding to the research assistant who helped Mr. Sullivan acquire the documents via "quasi theft," as Mr. Sullivan put it, "then proceeded to rifle through his files and help themselves to his research, his photographs and his personal possessions. There is no disputing these facts because Sullivan admitted as much in his own article."
Mr. Sullivan defended his decision to quote from the interview transcript in a telephone conversation shortly after the article was published.
"I won't try to make it sound like I didn't struggle with it," he told the Observer in mid-April, referring to the ethical blurriness of the situation. "It's not the kind of thing you want to do with every story."
He added, however, that he was legally in the clear, as one cannot own somebody else's speech, and Mr. McCormick's transcript features the words of Elvie Thomas. ("You're not allowed to sit on these things for half a century, not when the culture has decided they matter," Mr. Sullivan writes in the article, referring to the transcript.)
Ms. McCormick called Mr. Sullivan's comments "glib."
"There is reason to believe this theft of my father's research was their intention all along," she said, "and that they have stolen far more from him than just the items Sullivan has publicly admitted."
"It would be impossible to overstate the damage this incident has done to my father's physical and mental health," Ms. McCormick added.
"Mr. Sullivan's assertion that because I wanted it is somehow an adequate justification for theft demonstrates a shocking deficit of integrity," Ms. McCormick said. "I am personally dismayed by the treachery committed against my father by both Ms. Love and Mr. Sullivan, and I am frankly astounded that the New York Times would print a story predicated on the admitted theft of a person's life's work, and that they would subsequently employ a known thief like Ms. Love as a blogger on their web site."
UPDATE: Ms. McCormick said in a phone conversation this afternoon that her father, who suffers from bipolar disorder, had "unquestionably suffered" from the article's publication, though she didn't specify how.
"He's old and sickly," she told us. "His mental and physical health are fragile, so for something like this to happen is extremely upsetting to him."
When asked why she believes that Mr. Sullivan and Ms. Love had more of her father's notes in their possession, Ms. McCormick said: "When somebody exhibits a clear willingness to steal and to cross ethical boundaries, you have to assume that they're fundamentally not trustworthy."
Ms. McCormick added that she and her father were considering taking legal action but were still weighing their options.
"It's hard to know what to do in situations like this," she said.
Note: Mr. Sullivan has written an open letter in response to Ms. McCormick. Read it here.