Subtle she is not but neither is she the slightest bit creepy. She's the Rolls-Royce Ghost II and the curves on her bonnet are designed to evoke images of jet stream vapor or the wake of a graceful yacht. The basic model comes in around $250,000 but to his knowledge, Richard Carter, global head of communications of Rolls-Royce, told the Observer "Nobody has ever bought one." The Ghost is always custom-built. Every detail is made to order, including for instance, a tea maker, currently being experimented with for an Asian client. "The potential for catastrophe is huge, what with boiling water and a heating mechanism," said Mr. Carter. "However, we will do it. We are working on a device where the water boils and the tea gets made, then the owner just unclips the cup from the machine and voilà, tea."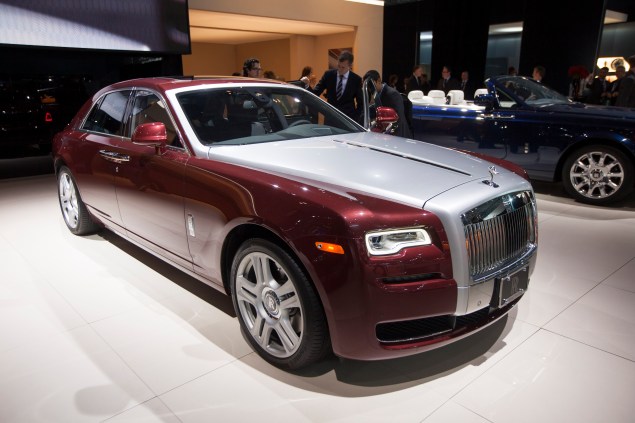 Of course there is more to this vehicle, including a 6.6 liter, V12 engine with 563 horsepower, an 8-speed automatic transmission and 21-inch wheels in a painted finish to match the silver bonnet. The updated model is perfect for long car rides, with supportive front seats including adjustable thigh support  similar to a recliner. In addition to speed and comfort, this luxury car is designed with attention to detail. From the lamb's wool mats to the hand-painted notches on the dials, absolutely no design corners have been cut. 
Sales in the U.S. are climbing steadily with an East Coast influx of new and young entrepreneurial types alongside the traditional rock star, sports titan and retiree Roller clientele. The other boom area is the West Coast, from San Francisco to La Jolla. Who said Tech Industry? Another reason to keep pushing the teens in your life to come up with a genius photo-web idea to rival Instagram. 
In the meantime, the Ghost II will be waiting, complete with 575 lb-ft of torque, which powers the vehicle to 62 mph in 4.9 seconds. All this and tea, too? Now that's what we at the Observer call a car. ν