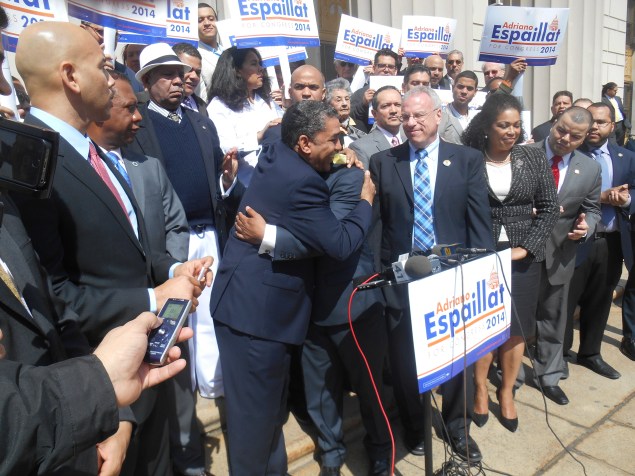 The Bronx Democratic Party and its most visible elected official, Bronx Borough President Ruben Diaz, Jr., are done supporting veteran Harlem Congressman Charlie Rangel.
One reason, Mr. Diaz told reporters today: Mr. Rangel told him that he would retire after winning another term in 2012.
"I will say this. For me … it was understood that it was his last hurrah," Mr. Diaz said at an endorsement event for Mr. Rangel's prime Democratic rival, State Senator Adriano Espaillat.
"We thought that the congressman should've gone out with some dignity. He said it wasn't going to be it and so we've been having conversations with Adriano and here we are today," added Mr. Diaz. "I am so proud. I'm at peace, I'm at ease."
Assemblyman Carl Heastie, the chair of the Bronx Democratic Party, said that Mr. Rangel made no such promises to him, however.
"To be honest and fair, the congressman never said to me–he may have said it to other people–but did not say to me that that was going to be his last term. He and I never had that conversation," Mr. Heastie said. "But I really don't want to make this press conference about him."
A wide swath of Bronx elected officials turned out at Bronx Borough Hall to back Mr. Espaillat for his rematch campaign against Mr. Rangel, who is seeking a 23rd term. No longer the underdog candidate, Mr. Espaillat–who already boasts the backing of the council speaker–is attracting the sort of establishment support he struggled to garner two years ago.
Mr. Espaillat is also hoping the shifting demographics of the Manhattan-based district will allow him to overcome Mr. Rangel and another African-American contender, Pastor Mike Walrond. Two years ago, Mr. Espaillat won the Bronx portion of the district and his campaign believes he can build on those gains there to overcome Mr. Rangel, who failed to open a district office there.
"I feel very strongly that there is an invisible bridge from this sector of the Bronx and Manhattan," Mr. Espaillat said. "This is one neighborhood. And I'm not apprehensive about representing the Bronx. My opponent said that he was apprehensive about representing the Bronx, I'm not apprehensive."
For its part, Mr. Rangel's campaign brushed off the Bronx endorsements.
"From Norwood to Inwood to Harlem, there is strong, grassroots support for Congressman Rangel's reelection from the voters of the 13th Congressional District. We can't afford to lose the experience and seniority Congressman Rangel brings to the table," said a Rangel spokesman. "The people know they can count on Charlie Rangel to be a champion in Washington to continue fighting for good jobs, better wages, and real healthcare reform for the families of this district – and that's why he is earning their support once again."